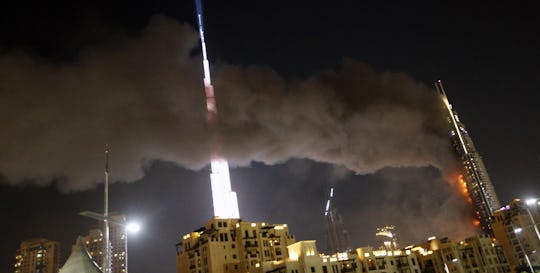 Fire Breaks Out In Dubai Hotel Just Before The City's New Year's Fireworks Display
On Thursday, a fire broke out in a hotel near Dubai's planned New Year's Eve fireworks display, according to NBC News. While the cause of the fire — which engulfed at least 40 stories of The Address Hotel, a five-star, luxary hotel and apartment complex — is unknown, terrorism has not been mentioned as a possible cause. The building is located near the Burj Khalifa, the world's tallest skyscraper. As many as four crews of firefighters tried to battle the blaze, according to CNN.
At least fourteen people have sustained minor injuries from the fire, according to CNN. Major General Rashed al-Matrushi, general director of the Dubai Civil Defense, told the pan-Arab television channel Al Arabiya that no one was seriously hurt or killed, according to NBC.
He said Dubai's New Year celebrations will proceed as planned: "Of course, it will not affect the celebration."
According to BBC News, the high-rise hotel is just steps away from where the city's festivities were slated to take place, and crowds gathered to watch the fireworks display had been asked the leave. However, the city still set off the fireworks — 1.6 tons of them.
Those on-scene and in the area at the time fire began stated the the fire began on the 20th floor. Jaqueline Hurtado, a CNN en Español correspondent, was "at a restaurant in the area when she heard an explosion, 'like a loud pop,' and thought the fireworks display may have started early. She and others noticed flames at the hotel, and were soon evacuated from the area," she said:
That fire was big. The fire was just going so fast. It just started burning real quick.
Tourist Michelle Duque told the BBC:
All of a sudden we saw this huge black plume of black smoke coming between the Khalifa Tower and the hotel. The flames burst out really big and before we knew it the whole of the Address Hotel was covered in orange flames.
Dubai is one of seven emirates that make up the United Arab Emirates (UAE).
Image: Scott Olsen/Getty Images News