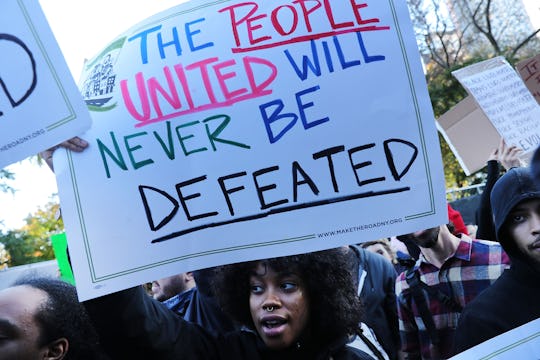 Spencer Platt/Getty Images News/Getty Images
Pack These In Your Women's March First Aid Kit
Since the election of Donald Trump as the 45 president of the United States, women all over the world have made moves to mobilize, and bring grievances to the nation's capitol (and state capitols across the country) in a way that can't be ignored. And while events taking place across the country, are advertising themselves to be kid-friendly and peaceful, organizers can't control everything, and there is a chance that things could get aggressive, or even violent, especially if rival groups end up going head to head. Because of this, and because you should be prepared for whatever happens, it's important that you put together a list of first aid items to bring to the Women's March, just in case things begin to go awry.
Of course, you shouldn't let the idea of possible clashes stop you from attending what is slated to be a historical day for this country, and an important one for women everywhere.
The Women's March on Washington was born from the idea that Americans ought voice their concerns about the potential issues with the incoming presidency without fear, and has since blossomed into a global movement that will take the nation by storm the day after Trump's inauguration. On Jan 21, at least 200,000 participants are expected to arrive in Washington, DC and march alongside one another in order to show the world that we can't be stopped, and we won't quit fighting for justice, peace, and inequality. It's a controversial topic, but in the grand scheme of things, it shouldn't be.
With all that in mind, make sure you have the following in your bag (no bigger than 8" x 6" x 4", according to march guidelines):