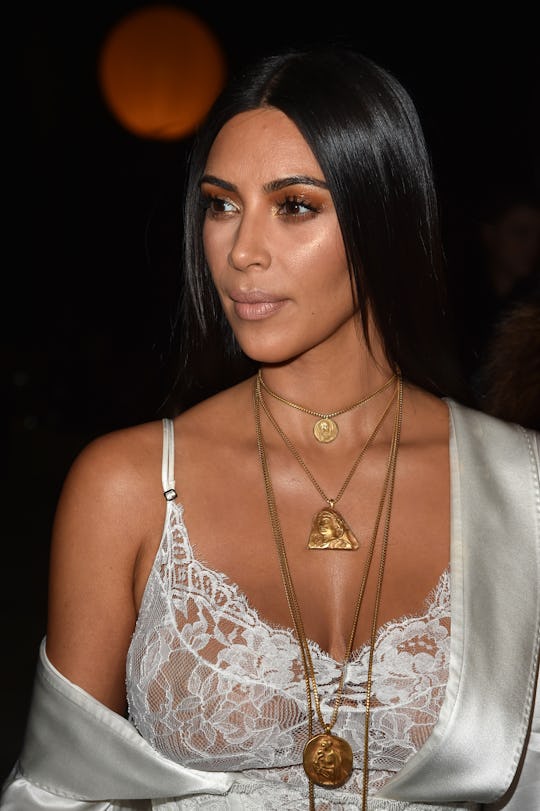 Pascal Le Segretain/Getty Images Entertainment/Getty Images
Kim Kardashian Robbery Suspect Has Been Charged
After a three-month social media blackout, our Instagram feeds feel a bit more complete — and justice for one reality star might soon be served. On Thursday, Kim Kardashian's alleged robbers was charged for his suspected involvement in holding the 36-year-old reality star at gunpoint during a Paris jewel heist that dominated headlines last October. The investigation into the horrific crime and any sort of penal action may have taken longer than expected, but the reported arrest of one of the 17 alleged suspects is a big moment for the mom of two, and her recent activity on social media shows that Kardashian and her adorable family are happy and doing well following her traumatic experience.
TMZ reported on Thursday that a 63-year-old man only identified as Yunice A. — one of the 17 arrested men who authorities believe may be connected to the October robbery — has been officially charged with armed robbery in an organized gang, kidnapping and criminal association.
According to the celebrity gossip site, law enforcement have also requested that charged man not be released from custody for the time being. Meanwhile, the other 16 arrested men are currently facing complicity charges, following a reported confession by several of the suspects of their involvement in the robbery, according to French network TF1/LCI.
Now that there has been substantial traction in the traumatizing case — during which Kardashian "was held up at gunpoint inside her Paris hotel room… by two armed masked men dressed as police officers," her rep told E! News in October — the Keeping Up With the Kardashians star seems to finally be moving on with her life.
Just last week, the reality star made her much-anticipated social media comeback with an precious photo on Instagram of her beautiful family — husband Kanye West, 3-year-old daughter North, and 1-year-old son Saint — and continues to post even more personal shots, capturing sweet moments with her kids.
What's more, Kardashian appears to be, at least publicly, traveling again as she is currently in Dubai for a makeup tutorial class, which is her first official and promotional appearance since the robbery. "[O]n our way," she captioned a recent photo, pairing it with the hashtag #dubai🇦🇪..
For fans, the best insight into a celebrity's life is through their social media accounts and Kardashian's triumphant return — along with the timing of the arrests and this first charge — is certainly a simple way of letting her followers know that she is doing better. And if a full investigation proves that this charged suspect was in fact involved in the traumatic crime, then that's some added icing on the cake.