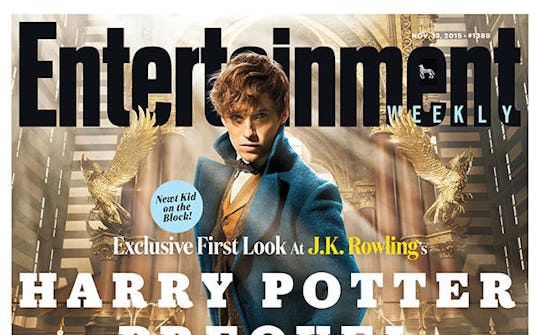 Entertainment Weekly
First Look At 'Fantastic Beasts,' The 'Harry Potter' Prequel, Is Finally Here & It's Definitely Gonna Be Magical
I should start by saying I am something of a Harry Potter aficionado. OK, that's putting it lightly. In truth I'm a total nerd/obsessed freak. I've read all of the books, watched every movie — multiple times — dressed as Bellatrix Lestrange, and even planned a vacation around the opening of a Hogsmeade-themed amusement park. So right now the inner fan girl in me is freaking out because we finally know what J.K. Rowling has been up to: The Harry Potter prequel film Fantastic Beasts and Where to Find Them, whose trailer was just released. The film, adapted from Rowling's 2001 book of the same name and starring Eddie Redmayne, was also written by the famous author. 
In Beasts, Oscar winner Eddie Redmayne (The Theory of Everything) will appear as world-famous magizoologist Newt Scamander. While we don't know much, we do know Scamander's adventure is set in 1926 New York, and according to Entertainment Weekly, the cover image (below) shows Scamander standing in the Magical Congress of the United States of America (or MACUSA) — the American version of the Ministry of Magic. He is armed with briefcase, glowing wand, and stunning 1920s' style. And according to EW, we also know the names of some other big stars in the flick: Katherine Waterston, Colin Farrell, Jon Voight and Samantha Morton have all signed on board.
As for what Fantastic Beasts is about? It's centered around a bunch of magical creatures in the Harry Potter universe — a sort of beastanica, if you will. And while Beasts has been hidden in a web of secrecy thicker than that of Acromantula's (the spiders in the Forbidden Forest) this "sneak peek" only raises more questions.
What is this movie actually about? Who is Newt Scamander — and what the hell is in his briefcase? How will Beasts differ from the Potter films, and will there be overlap? (I know we are in two different countries — and in two different times — but I never say never when it comes to the mythical, the magical, and the downright fantastical.)  
Well it appears we will have to wait until Friday (ugh, Friday!) to know more, when Entertainment Weekly releases this magical issue full of cast interviews, first look photos, and more.
Accio, magazine! Friday can't come soon enough.
Image: Entertainment Weekly