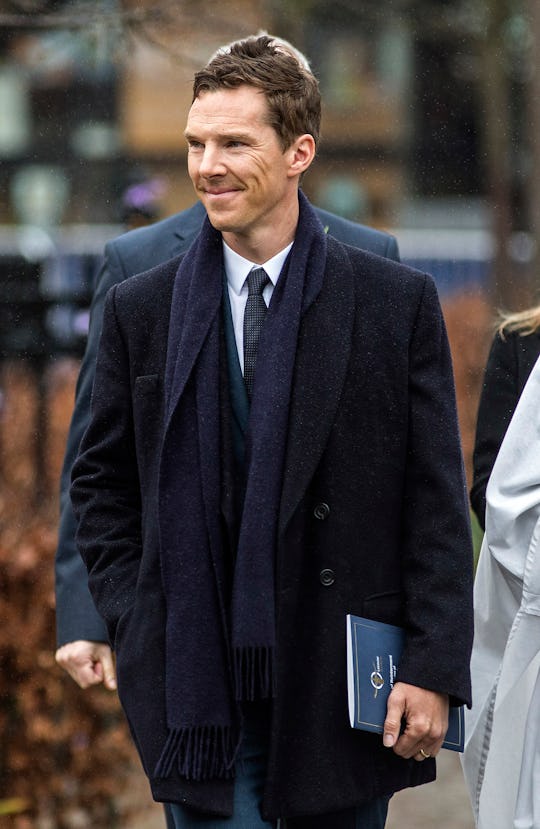 First Photo Of Benedict Cumberbatch As Doctor Strange Is Here, & Marvel Nailed It
It's a good day for the Marvel fandom. Entertainment Weekly released the first photos of Benedict Cumberbatch as Doctor Strange, and the internet is completely thrilled. From his wardrobe to the patches of gray in his hair, Cumberbatch is looking spot-on as Marvel's beloved surgeon-turned-magician.
According to the Marvel Universe Wiki, Stephen Strange is a self-absorbed neurosurgeon who ends up with nerve damage in his hands following a car accident. After seeking a wide variety of healing treatments, he ends up visit a man called the Ancient One in Tibet. The Ancient One does not initially offer to help Strange. But when the Ancient One is attacked by his disciple, Mordo, Strange offers to become a student in order to help serve as a protector. That transition from narcissism to selflessness allows Strange to develop an extraordinary repertoire of powers under the Ancient One's tutelage, from time travel to illusion-casting.
James Whitbrook of io9 writes that Benedict Cumberbatch's look is true to Doctor Strange:
Maybe it shouldn't be surprising at this point, but I am genuinely shocked at how close this adheres to Strange's classic costume from the comics—it's all there, the color scheme, the cloak, the eye of Agamotto dangling from his neck, It's all there—right down to Strange's greying hair. It really has leapt off the page of a Doctor Strange comic into real life, and it looks great.
Though Cumberbatch looks as polished as his character, the movie isn't even finished yet. According to EW, filming runs through March and Doctor Strange's release date is November 4, 2016. Based on the first images, Twitter can't wait:
He may have the title role, but Cumberbatch isn't the only Doctor Strange star to be seriously excited about. According to Slashfilm, Rachel McAdams, Tilda Swinton, and Chiwetel Ejiofor are among the cast. Entertainment Weekly promises that its First Look issue includes info on the roles played by McAdams and Mads Mikkelsen. Director Scott Derrickson's background is in horror movies: he wrote and directed Sinister and The Exorcism of Emily Rose. Speaking to Entertainment Weekly, Derrickson expressed surprise that he's making Doctor Strange at all: "I keep waiting for the knock on the door when somebody says, 'This movie's too weird, we can't make this.'" Producer Kevin Feige told EW that they'll be true to the psychedelic visuals of the original series of comics, which Cumberbatch seconds: "These gestures are ways of creating the magic. It's a beautiful thing, it's balletic, it's very dynamic. And once the boys in the backroom get to work on it, there's going to be crazy s--t going on."
The wait for the November release date is definitely going to feel long. The good news: it looks like fans have a whole lot to be excited about.
Image: Richard Pohle/Getty Images