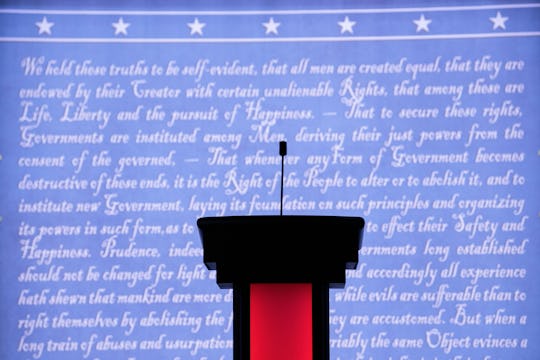 Drew Angerer/Getty Images News/Getty Images
First Presidential Debate Memes Make Everything A Little Better
The anticipation for the first presidential debate of 2016 was incredibly high and, as expected, the actual show did not disappoint. Democratic nominee Hillary Clinton and Republican nominee Donald Trump went at each other with policy ideas and of course, the odd jab at their opponent, and moderator Lester Holt of NBC News did his best to organize the conversation and fact check the two candidates. But as always, it was Twitter that really monitored the ebb and flow of the debate — and the first presidential debate memes and jokes were almost too real.
If voters are feeling a little overwhelmed or stressed about the outcome of the the election, memes are usually the best medicine. I mean, if you can't move to Canada, you can at least laugh (and cry — crying is probably also involved). The memes and Twitter LOLs mainly focused on some longstanding beef between the candidates that's been brewing since their respective conventions.
Trump supporters mocked Clinton's health and the fact that she had to use a step stool at the podium on Monday. Clinton supporters were ready with memes about how untrustworthy and unprepared the golf course mogul can seem. Others simply wondered when, if at all, the candidates were going to be able to take a bathroom break during the 90-minute event that went on (and on, and on) without any commercial interruptions.
Monday's debate was a bit of a wild ride, but the memes were consistently on point.
It Was A Stressful Night
The Crowd Was Packed
The Never Hillary Crew Came Hard
But So Did Everyone "With Her"
The candidates were both prepared, despite a lot of speculation that Clinton might have been practicing too much (she was doing mock debates well into Monday afternoon, according to CNN). Even Trump, who had joked earlier in the campaign season that some candidates prep so much that they "can't even speak" when they get to the podium, seemed to have things sort of under control. It must have been all the warm-up psychological warfare the campaigns had done leading up to Monday's broadcast.
Last week, the Clinton campaign invited businessman and dedicated Trump troll Mark Cuban to sit in the front row at the debates just to rattle her opponent. In response, over the weekend, Trump joked on Twitter that he would invite Gennifer Flowers, who had an alleged affair with former President Bill Clinton when he was governor of Arkansas, to sit in the audience and get on Hillary's nerves. All of that game playing really showed on the debate stage at Hofstra University, amid the contentious partisan squabbling.
It's anyone's guess whether voters got their fill of policy ideas and platforms during the debate on Monday night. But if nothing else, they'll certainly have a treasure trove of memes to pass around while they wait for the election in November.