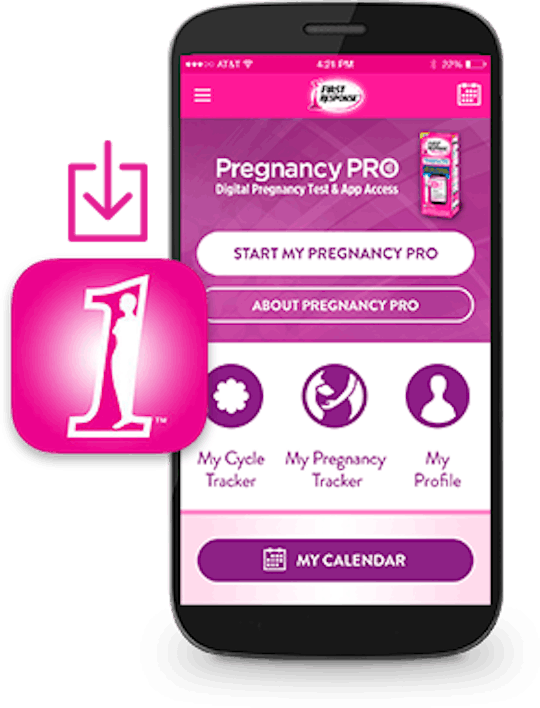 First Response
First Response Introduces "Smart" Pregnancy Test & Answers A Very Important Question
Welcome to 2016. Everyone's seen Star Wars: The Force Awakens, Donald Trump is still Donald Trumping, and there are "smart" pregnancy tests now. Are you psyched? At the Consumer Electronics Show on Wednesday, First Response introduced their new Pregnancy PRO test with an accompanying app, because your potential fetus lives in the future, so why not. The test, which will retail for $14.99 to $21.99, according to Mashable, doesn't actually plug into your phone or touch it in any way, so don't worry if you don't have a waterproof Galaxy. Instead, it's outfitted with a Bluetooth device, made by Qualcomm, which it uses to communicate with your phone.
According to a press release, users will download the app and enter profile information to customize their experience, answering questions such as "Are you planning to or currently trying to get pregnant?" and entering the date of their last period. After syncing the test with the mobile device, it's time to pee. Once the sample is detected by the app, a three-minute timer starts, during which users can choose to be "educated" about pregnancy, "entertained" by videos of kittens and puppies, or "calmed" by who knows what (because that's has not been specified. Maybe whale songs? Whale songs might be nice).
In the event of a negative result, the app will offer "suggested next steps" such as cycle tracking advice. In the event of a positive result, the app will offer pregnancy milestone trackers and reminders to schedule prenatal appointments.
That sounds very helpful and informative... if you're looking to get pregnant. But here's the thing: Not everyone who uses a pregnancy test wants to be pregnant. First Response is certainly aware of this; the app does ask if the user is trying to get pregnant. So what if they're not? Does the app offer applicable resources and "suggested next steps" for those users, too? Maybe a negative result could trigger information on the safety and efficacy of IUDs.
I reached out to Church and Dwight, manufacturers of Pregnancy PRO test, and received the following response via Stacey Feldman, Vice President of Marketing, Women's Health and Personal Care, at Church & Dwight:
To answer your question, the First Response Pregnancy PRO app content will always suggest – regardless of the desired test result – that a woman visit her doctor to confirm her pregnancy and discuss next steps.
If a women is not looking to become pregnant and her result is positive, she will see content that seeks to inform her as well; articles such as 'Questions to ask your Doctor' and '5 Early Pregnancy Symptoms Most Women Deal With.'
If a women is not looking to become pregnant and her result is negative, she will see informative articles such as, 'The 28-Day Guide to Your Reproductive Cycle,' and 'Avoiding Future Pregnancy Scares.'
That's great news! And while I wish this was included in First Response's marketing, I'm glad that the company understands that not all potentially pregnant women are looking to have a baby. Now all that's left is for them is to put out a commercial where a negative result spurs high-fives and a round of margaritas for the happy not-parents.
Image: First Response