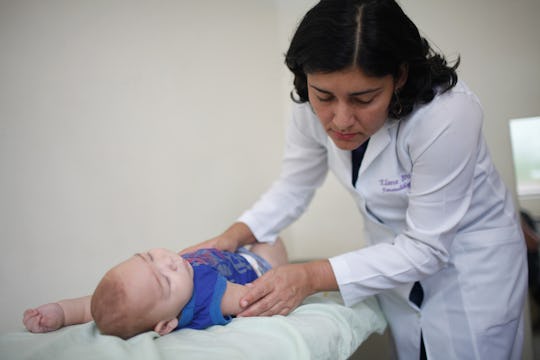 Mario Tama/AFP/Getty Images
First Sexually Transmitted Zika Case Found In The U.S. & Here's What That Means
Normally, Zika virus is transmitted by mosquitos. But in Texas, officials discovered the first U.S. case of sexually transmitted Zika virus. The individual who carried the disease contracted it while in Venezuela, according to USA Today.
On Monday, the World Health Organization formally acknowledged the spread of Zika virus as a "Public health emergency of international concern," according to CNN. Though it is often relatively harmless in adults, Zika virus may be linked to paralysis caused by Guillame-Barre Syndrome. The biggest concern, though, is the correlation between Zika virus infections in pregnant women and infants born with microcephaly. Zika virus has spread to as many as 20 countries, according to The New York Times; dozens of cases have already been identified in the United States.
Mosquito-borne illnesses are often easier to control in parts of the world that don't have a tropical climate. But because Zika virus can be transmitted sexually, protecting against bug bites isn't enough to prevent spread. Since Zika virus poses the greatest danger to fetuses, the fact that the infection can be passed from person to person during sex is even more dangerous. Dallas County Health Department Director Zachary Thompson told USA Today that it's important to use condoms to ensure the virus isn't contracted during intercourse. This is particularly critical if an individual recently traveled to an area where Zika virus is common. According to the CDC, that includes much of Central and South America.
Zika virus can be difficult to spot; your partner may not even know if they have it. Only about one in every five infected people actually develop symptoms, reported the CDC. Even then, the illness can be mild. Symptoms to watch for include a fever, joint and muscle pain, rashes, conjunctivitis and headaches. A doctor can use a blood test to determine whether the infection is Zika virus or another mosquito-borne illness such as chikungunya or dengue. Treatment relies mostly on waiting it out; there's no vaccine to prevent Zika virus, and there's no medication specifically developed to treat it. Though symptoms are often easily managed, it's good to get a formal diagnosis; your doctor can tell you how long to refrain from sex in order to avoid transmission.
The Zika virus is certainly scary, but there are steps that can be taken to protect yourself and your partner. By knowing the symptoms and being proactive, you can be empowered to stay safe and protect others.