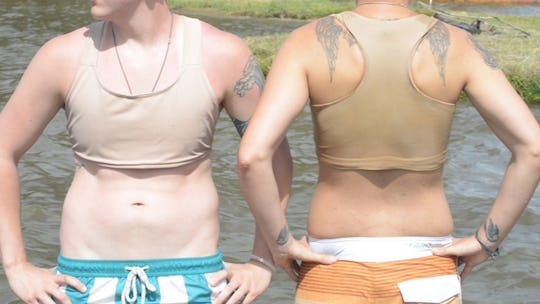 Courtesy FLAVNT Streetwear
FLAVNT Streetwear To Launch Trans-Friendly Swimwear & 5 More Companies All About Inclusivity
From Caitlyn Jenner's Vanity Fair cover debut this past summer as a trans woman to the disappointing defeat of the Houston Equal Rights Ordinance (HERO) Act just last month, trans issues are ever so slowly emerging into mainstream awareness from otherwise marginalized conversation. FLAVNT Streetwear (pronounced "flaunt") is one such company helping to bring trans identity to the forefront of modern fashion and they're making waves with their latest endeavor: the Bareskin Top, swimwear specially made for the trans community.
Chris Rhodes, FLAVNT's co-founder, spoke with Romper about his personal experience with chest dysphoria that inspired the creation of the Bareskin Top as a transmasculine swim binder:
I live in Texas and I love to tan and spend time in the water but I don't want to wear something bulky or oversized. There are a handful of swim binders on the market but they're all like rash guards or wet suits and aren't comfortable. They bother the wearer, because it's obvious you're wearing this big clunky top to hide something. So Courtney (Rhodes, FLAVNT's other co-founder) and I had this brilliant idea to make a sleek skin colored top. And we just sat there and questioned why this didn't exist yet. Skin colored binders just make sense. Not only for swimming but for undershirts, sex, and wearing tank tops. The idea is to make the top as "invisible" as possible which allows the wearer to pass and feel comfortable, safe, and confident.
Courtney expanded on how the Bareskin Top is more than just swimwear—and how it has the potential to be an empowering piece of fashion for the trans community:
One particular customer shared their excitement surrounding the opportunities of wearing this top on the bedroom. Seeing a binder can be triggering for a transguy while getting intimate; if you have something more subtle binding your chest, you can stay in the mood much easier. We loved that this person made this point because it's something that Chris had expressed as a benefit for the Bareskin Top that people may not realize but will be very helpful.
FLAVNT is one of several companies out there creating products for trans individuals with their needs and experiences in mind. Here are five other trans-friendly companies that are all about inclusivity.