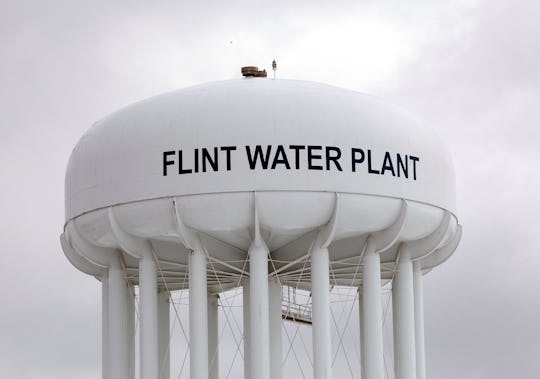 Bill Pugliano/Getty Images News/Getty Images
Flint, Michigan Employees Charged In Connection With Water Crisis & It's About Time
Multiple criminal charges were filed this morning against three employees involved in the Flint water crisis. The charges are the first of their kind brought against government workers in relation to the public health disaster. On Wednesday, District Judge Tracy Collier-Nix authorized charges against Mike Glasgow, Flint's laboratory and water quality specialist; Mike Prysby, a Michigan Department of Environmental Quality worker; and Stephen Busch, the Lansing district coordinator for the DEQ's Office of Drinking Water and Municipal Assistance, for their involvement in the contamination, and subsequent poisoning, of the city's water supply.
Close to 100,000 residents of the poor, mostly black Flint, Michigan were exposed to dangerously high levels of lead in their drinking water. The contamination drew attention from around the country and sparked outrage towards both local and state government officials.
All of the defendants are facing both misdemeanor and felony charges that include misconduct in public office and conspiracy in connection to evidence tampering. Michigan Attorney General Bill Schuette charged Busch, 40, with three counts of felony and two misdemeanors, Prysby, 53, faces four felony charges and two misdemeanor charges, and Glasgow, 40, one felony and one misdemeanor.
The charges against Busch and Prysby carry the maximum penalty of five years in prison. Glasgow is facing up to four years behind bars.
According to court documents, the men are accused of tampering with reports from February to August 2015 on lead levels in the city's water. Flint's water supply source was switched from Detroit's municipal system to the Flint River in 2014 as a cost-cutting measure. However, the corrosive river water damaged the town's aging pipes causing lead to leach into it's drinking water. The result of this action exposed Flint residents to toxic lead-poisoning, Legionnaire's disease and E. Coli.
Many Americans blame local and state government officials for the contamination that left thousands without clean water for months on end. Some critics have even called for Michigan Governor Rick Snyder's resignation amidst the crisis.
In light of the charges, U.S. Rep. Elijah Cummings, a Democrat from Michigan, released a statement hailing the attorney general's actions. "The criminal charges against MDEQ officials are one step towards justice for the families of Flint who were poisoned as a result of the actions of Governor [Rick] Snyder's administration," he said.
During a press conference Wednesday afternoon, Schuette announced that he was bringing charges against the 3 individuals, adding, "these charges are only the beginning and there will be more to come. That I can guarantee." He refused to name anymore suspects in his investigation but said, "Nobody is off limits."
"So many things went so terribly wrong, and tragically wrong, in Flint," Schuette told reporters. "I made a decision that I must investigate what went wrong. It is my job as Attorney General to protect the citizens of Michigan." He assured the public that his office will "hold each and every person who breaks the law […] accountable."
In a prepared statement on Wednesday, Genesee County Prosecutor David Leyton revealed that his office was working closely with the Attorney General on the criminal inquiry. He upheld their commitment to the investigation, saying, "the people of Flint deserve nothing less than the truth." He hinted that more charges may come, insisting, "we will keep working until we get to the bottom of this."