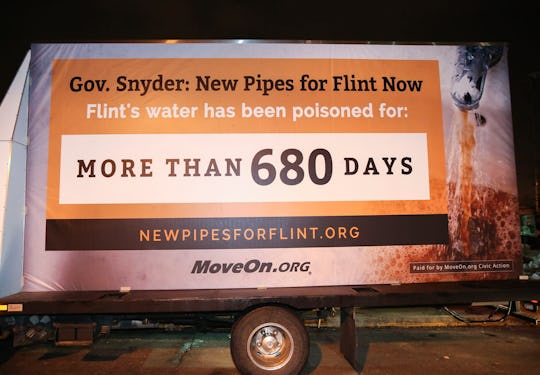 Scott Legato/Getty Images Entertainment/Getty Images
Flint Residents Must Pay Bills For Tainted Water
The citizens of Flint, Michigan have been fighting a long and hard battle over their water. In the past year since a State of Emergency was declared for the town of Flint over its water supply, things have continued to unravel, despite some in the state arguing otherwise. Just this past week, those residents experienced another blow. According to NPR, Flint residents have to pay their water bills once again — even though the water is still reportedly unsafe to drink or use.
As of March 1, the citizens living in Flint, Michigan must now pay the full cost of the water running through the town's pipes, due to the state ending subsidies for the citizen's water bills. According to NPR, the state of Michigan "paid about two-thirds of resident's water bills" up until now using subsidies. The government got rid of those subsidies, according to NPR, because recent tests showed levels to be in the federal limit of safe drinking. But in spite of these tests, according to The New York Times, it could be more than a year before residents can drink from their faucets.
Though the government will stop paying resident's water bills, officials say they are still committed to removing lead service lines, providing filters, and reaching out to the residents of Flint, according to a letter from the Governor's Office. The Michigan Governor's Office did not respond to Romper's request for comment.
According to ABC News, residents "received about $41 million in state credits to help them pay for their water bills from April of 2014 when the plan expired." A spokeswoman for Michigan Gov. Rick Snyder, Anna Heaton, explained to ABC News that "tests conducted on Flint's tap water in the past three months found that it meets all federal standards, although state officials recommend the use of filters as a precaution. The state is providing filters."
Yet the city's inhabitants tell another story. According to The New York Times, there are still lead-tainted pipes in Flint that need to be replaced — and that while the recent water tests are "encouraging," residents should still be drinking from bottled water and using filters. This means, according to Time, that most families will still need to rely on bottled water to brush their teeth, cook, and bathe.
In an even more concerning twist, scientist Marc Edwards, who conducted these recent tests, told ABC News that Flint has "better water than most other similar cities." It should also be noted that the water bills in Flint are among the highest in the country, according to ABC 12.
This ongoing fight for clean, safe water in the city of Flint continues to concern its residents and anyone following the ongoing saga. For now, despite claims to the contrary, citizens will be stuck paying for something they feel they can't possibly use.