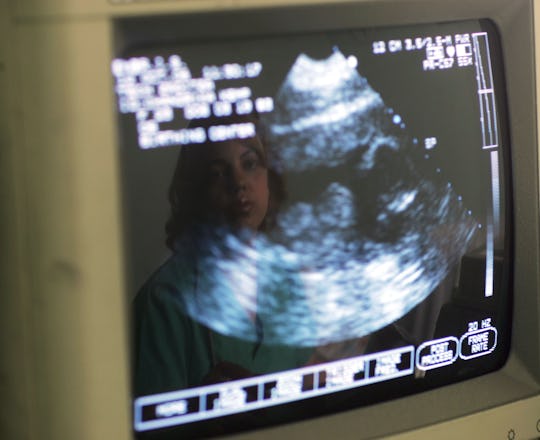 Joe Raedle/Getty Images News/Getty Images
Florida To Offer Parents Birth Certificates For Miscarriages
Coping with a pregnancy loss is an emotional and heavy journey. While every parent handles it in their own unique way, most will go through the five stages of grief: denial, anger, bargaining, depression, and acceptance. It's never an easy hurdle to overcome, but one state is making strides to help with this process. On Wednesday, May 31, Florida Gov. Rick Scott signed a bill into law that will essentially offer birth certificates to parents who experienced miscarriages if they want them — a touching gesture that could help mothers and fathers get the closure they need to cope with their loss.
Beginning on July 1, Florida — the first state to do so — will be allowed to issue "certificates of nonviable birth" for those whose pregnancies end after nine weeks and before 20 weeks of gestation, according to CBS Tallahassee affiliate WCTV. The new law, named the Grieving Families Act, would only issue a state-issued certificate to parents who requested one, who can choose the name of the lost fetus for the certificate.
"The parent can name the child if they have a gender or they can just name it Baby Smith," Republican Rep. Bob Cortes, the bill's House sponsor, said last month, according to U.S. News & World Report. "It doesn't matter whether you're a Republican or Democrat, somebody in life has been touched through a miscarriage and they understand how important this is as part of the grieving process."
Parents who suffered a miscarriage before July 1 will still be able to request a certificate "regardless of the date on which the nonviable birth occurred," according to the bill. The state will then issue it within 60 days of the request and it will be also be available as a public record.
According to the American Pregnancy Association, about 10 to 25 percent of pregnancies end in miscarriage, a term used for a pregnancy that ends on its own, within the first 20 weeks of gestation. If a pregnancy ends at 20 weeks or later, the state will continue to consider the loss a stillbirth and a death certificate must be issued. However, parents in Florida may still request a birth certificate as well in the case of stillbirth, according to WCTV.
The bill was passed unanimously in the Senate and was worded "in a way to ensure it wouldn't spark a partisan argument over whether the state was trying to define life," according to U.S. News & World Report.
In the fine print of the bill, it states that the certificates will not be able to be used as proof of a live birth and women who had an abortion will not be able to request one either. Additionally, it "may not be used to establish, bring, or support a civil cause of action seeking damages against any person or entity for bodily injury, personal injury, or wrongful death for a nonviable birth," according to the bill.
For some parents, having a birth certificate may help them acknowledge the passing of their fetus and cope with this emotional aftermath. And hopefully, one day, more states will do the same.