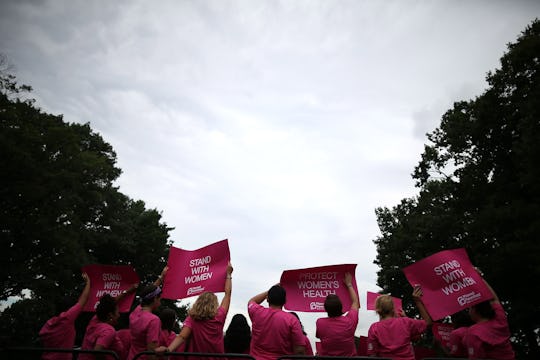 Following Colorado Springs Shooting, Planned Parenthood Advocates Tweet Support For Organization
Just minutes after news hit that an active shooter was at a Colorado Springs Planned Parenthood, it was clear that, once again, women's reproductive rights could literally be under attack. Though little is known about the situation at this time — except for the fact that the gunman was, according to USA Today, wearing a "long coat and a hunting-type hat" — it's not new news that Planned Parenthood has been a target of attacks in the past. And, for that reason, Planned Parenthood supporters are tweeting kind words in response to the latest shooting. (Update: After an hours-long stand-off, the shooting suspect has been detailed by police. Said Mayor John Suthers Friday, "The perpetrator is in custody. The situation has been resolved." Later Friday, authorities identified the suspected gunman as Robert Lewis Dear, 59, from North Carolina.) Police have also confirmed that three were killed, including one police officer and two civilians.
As of press time, three police officers were reported injured in the incident, after, according to USA Today, the gunman shot through the windows of the clinic. (Whether anyone working at the clinic was injured is unknown at this time.) And seeing this type of violence go down at an establishment that is meant to protect and serve women and their reproductive rights and health, many are realizing that this is the perfect time to come out and remind the world that they stand with Planned Parenthood. Because it's tweets like this that make you realize speaking out in support of the organization is more important than ever:
Just a few of the most touching tweets that have come out in the minutes since the shooting:
And, of course, many others feeling helpless during these situations are pointing to ways that supporters can truly support — donate to Planned Parenthood here. As Chrissy Teigen tweeted:
And all the more reason to donate:
So, go ahead. Truly stand with PP.
Image: Mark Wilson/Getty