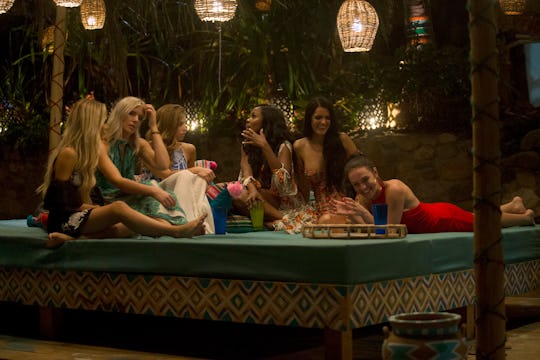 ABC/Paul Hebert
Footage Of Production Shutting Down On 'Bachelor In Paradise' Is Very Chaotic
This season of Bachelor in Paradise made headlines months before its premiere. A pool incident involving Corinne and DeMario sparked an assault investigation, and actually shut down production for ten days. While Warner Bros. did not find evidence of assault, the scandal made headlines worldwide and became a part of ABC's marketing for this season. Not only that, but producers did not shy away from showing footage of the fallout of the incident in the first episode of the season. Footage of production shutting down on the Bachelor in Paradise premiere show how chaotic the situation was for contestants and producers alike.
Earlier this summer, Bachelor Nation experienced the scandal from hearing about it all over the news. According to Fox and AP, the incident went down on June 4; on June 11, production was suspended and the next day, the allegations were revealed. Filming didn't stop for long, because on June 20, Warner Bros. announced that they did not find any evidence of assault. Paradise picked up shooting the following day. The scandal made headlines that reached far beyond Bachelor fans, even after the investigation stopped. Now, weeks later, Bachelor Nation sees how it went down for the contestants and crew themselves.
Bachelor Nation was probably curious about how the incident would be handled on the show, and they finally found out during Monday night's premiere. Warner Bros. said they would not show footage of the incident itself, which was true; they showed Corinne and DeMario in the pool, and much of the aftermath, but that's it. Towards the end of the premiere, they showed production being stopped – presumably around a week after the incident occurred.
Honestly, it seemed like such a cluster that no one – cast, crew, or fans watching – could tell what was happening. Corinne and DeMario were apparently whisked away by producers, and cameramen were told to turn their cameras off. As someone always skeptical of reality television, I wonder if this was truly when the cameras turned off...because there's still footage of all this...but I'll take it for face value. Whether real or fake, Paradise descended into chaos when production was shut down due to the investigation. They teased what happens when production picks back up – which viewers will see on Tuesday night's episode. Thankfully, the scandal has, for the most part, subsided; now that it was shown on Paradise, it will finally die down.