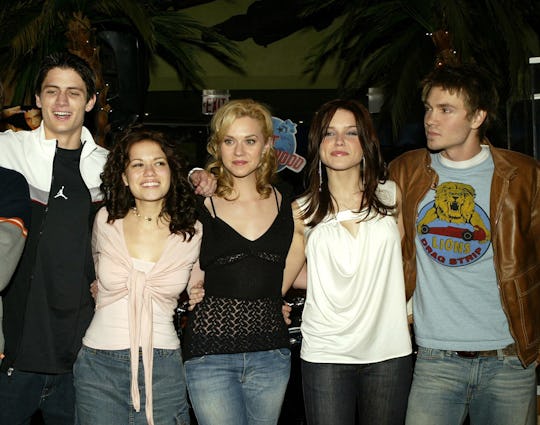 Peter Kramer/Getty Images Entertainment/Getty Images
Six Years Later, James Lafferty Is Still Grateful For 'One Tree Hill'
Ever wonder what your favorite childhood stars are doing now? Same. In Romper's new series Claim to Fame, we're bringing you exclusive interviews with the faces of the past, contextualizing them in the present, and finding out what they've learned from their claim to fame.
One Tree Hill was one of the longest running young adult dramas on American television, second only to the original Beverly Hills, 90210. Premiering in September 2003, the series allowed many young millennials to grow up right alongside Nathan Scott, Brooke Davis, Haley James, and the rest of the crew. There were countless friendship issues, romantic mishaps, and the typical high school drama to tune in for every week. But, there were also the serious issues that not every teen is accustomed to dealing with. For example: teen pregnancy, drunk driving, and, sadly, school shootings.
It's been six years since One Tree Hill ended on April 4, 2012, but the show seems more relevant now than ever. James Lafferty, the now 32-year-old actor behind one of the show's main characters, Nathan Scott, agrees, telling Romper: "It's rewarding. I mean, what could be a better reward for the time that you spent on a show than for it to continue to be relevant so many years later?" Lafferty attributes One Tree Hill's relevance to streaming services, all but singing the praises of Netflix and Hulu for introducing One Tree Hill to what seems to be an unlimited amount of new audiences. "It's mind blowing," Lafferty explained. "It's funny because you reflect back on it, but then it's still somehow relevant because of these streaming services."
"I mean, at this point, it's funny because when we first came off the show we understood what we had done for the core audience that stuck with us while we were on the air. And that was just incredible in itself and we stayed really close with our fan base, so it felt like sort of this family thing," Lafferty went on. "And then One Tree Hill got on Netflix, and it was so strange. It was like three years after the show ended, we sort of looked at each other and were like, 'Are you getting stopped on the street like way more now than you ever had?' And all around, it didn't matter where people were in the country, it was the same story. It was like something is happening."
Relevance aside, One Tree Hill also feels like it was way ahead of its time. How does a show pull something like that off, and so well? According to Lafferty, it definitely wasn't intentional, because as far as he was concerned he was just happy to be an employed actor. But, that doesn't mean that his older, wiser self has not since realized the impact of One Tree Hill.
I grew up on set and it's the only real place that I feel comfortable other than my home.
"Now that I look back on it I really understand that the show was about family, and the show was about friendship, and the show was about leaning on the people that you love when you're going through a really tough time or when something crazy was happening," Lafferty shared. "And I just feel like now I understand as I get older that those are universal themes that don't age. They will always be relevant. So it's not really a surprise to me, but I hadn't really wrapped my head around it until later."
Six years later and Lafferty still credits his time on One Tree Hill for completing the foundation of the career he wanted. Once seasoned enough, Lafferty directed an episode of One Tree Hill, which made him realize that there were so many more outlets to story telling and filmmaking than he ever could have imagined. In Lafferty's words, "The cool thing about being on One Tree Hill though that was different from the rest of my life was that I got to learn how to be a filmmaker." Since One Tree Hill ended, Lafferty went on to direct a handful of episodes of The Royals.
For his latest project, Lafferty has teamed up with a former One Tree Hill co-star to write, direct, produce, and star. The project is called Everyone Is Doing Great, and it stars Lafferty and Stephen Colletti as two young actors who go from being on a successful television show to struggling to find work. Lafferty says that he always knew he and Colletti would find their way back to each other in the industry. "We knew that we'd work together again, but we didn't know what it would be, and we didn't just wanna put things out there," Lafferty told Romper. "We didn't just wanna start throwing things out there and see what sticks. We really talked about it and we wanted to wait until the right time came along. And then, you know, once Everyone Is Doing Great started rolling we were like this is great, this is the one."
As Lafferty and Colletti work to get Everyone Is Doing Great the funding it needs to continue as a series, they are doing a lot of traveling together to promote and screen the pilot episode. In fact, they just won the Best Comedy Writers award at SeriesFest in Denver, Colorado!
Everyone Is Doing Great is a crowdfunding project, which means Lafferty and Colletti are running an Indiegogo campaign asking for donations to finish the series. When Romper spoke to Lafferty, the Indiegogo campaign had just hi the $100,000 mark — a huge milestone for the project.
"It feels incredible. It feels so, I mean the crowdfunding journey was one that was gonna be a crash course, we were gonna learn a lot from," Lafferty shared. "Everybody told us going into it that it's gonna be the hardest job we've ever done. And they were right, they were absolutely right."
The job might be hard, but it seems like Lafferty has it together.