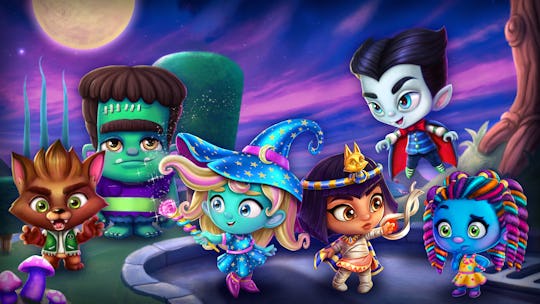 Netflix
This Netflix Special For Preschoolers Is The Antidote To Scary Halloween Stuff
Halloween spookiness is definitely a hit-or-miss seasonal festivity. Either you love being scared, followed by the rush of giggles knowing that everything is okay, or you'd rather lock yourself in your house with a month's supply of pumpkin spice treats for the remainder of October. But for little kids scared of Halloween, this Netflix special is designed to both help them rejoin the fun without a traumatizing case of the scaries and to address common Halloween triggers, helping to neutralize them.
The animated special Super Monsters Save Halloween is based on the 10-episode series Super Monsters which Netflix first released in 2017. It follows a class of preschoolers named Drac, Cleo, Lobo, Katya, Zoe, and Frankie, all of whom lead double lives as humans by day and magical monsters by night. They're really cutely drawn but all based on classic monsters like Dracula, Frankenstein, and a mummified Cleopatra. (In the universe of the show, these "world's most famous monsters" are actually the kids' parents.) It's a pretty genius way to re-associate the onslaught of scary imagery kids are subjected to every October with adorable, nonthreatening buddies. According to Netflix, that's exactly the point:
The series offers kids their first steps into the fun, funny and not-so spooky realm of monsters by explaining the magic behind haunted houses and spooky decorations. And the holiday special proves that Halloween isn't ​actually​ scary, as long as you know the tricks.
Along with the special, Netflix is also releasing a second season of Super Monsters, which follows the characters' lives in the classroom and tackles "kindergarten readiness skills like sharing, communicating feelings and respecting others," according to Netflix.
Part of what makes Super Monsters Save Halloween special is that it gets into some of the spooky stuff kids are likely to see on Halloween more explicitly. It exposes things like motion censored animatronics and other haunted house tricks and explains the mechanisms behind them, letting kids know that everything is in control. Netflix reports that 68 percent of parents say their preschoolers are afraid of Halloween, and 54 percent of toddlers don't understand that the scariest parts of Halloween are make-believe. Spooky masks, creepy monsters, and scary decorations top the list of most common fears. Fifty-four percent of parents even said that their kids thought some costumes were too scary.
Another one of the ways Super Monsters Save Halloween demystifies scary decorations is by turning them into silly ones. (Googly eyes and smiley faces do a lot of heavy lifting here, as far as I can see — happy ghosts! happy mummies!) Most importantly, as one of the Super Monsters notes in the trailer, "You don't have to try anything that makes you scared or nervous."
Super Monsters Save Halloween and Super Monsters Season 2 both drop on Netflix October 5, giving kids and their parents plenty of time to ease into conversations about the spooky things they may see this year. There's also a set of four Super Monsters Monster Party songs, in case you're jonesin' to hear a perky version of the "Monster Mash."