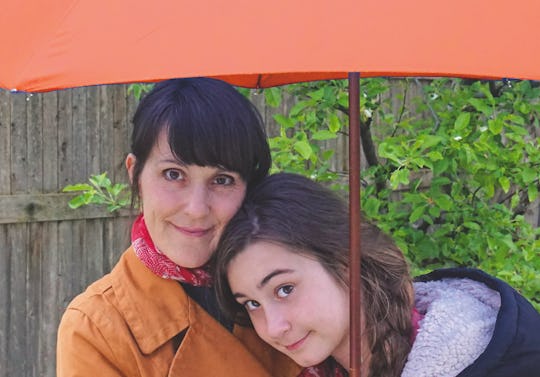 Courtesy of Amy June Bates
For This Mom & Daughter, "Resistance" Meant Writing A Children's Book
Reading a book 200 times is a surefire way to find out whether you love it or want to throw its rhyming llama couplets into the diaper pail. Children's books especially do a tricky dance for an audience of squinty-eyed parents and wide-eyed tots: the best ones, like a syringe of infant-suspension Tylenol, have a little something for the parent at the end. These are the ones we are celebrating in This Book Belongs To — the books that send us back to the days of our own footed pajamas, and make us feel only half-exhausted when our tiny overlords ask to read them one more time.
A year ago, the Women's March became the largest protest in U.S. history as women, and their families, took to the streets to advocate for human rights following the inauguration of a president demonstratively anti-immigrant, anti-child, and anti-women. The election of Donald Trump was a gutting moment for many moms who felt the keening of a terrible turn in history. There was the sense that, in an era of tribalism, millions would be left out in the cold — that entire groups of people were no longer welcome. Enter: The Resistance. Moms knitting hats and hoisting their kids up on their shoulders to see over the crowds.
But scribbling catchy messages on poster boards was just one way to #resist. One mom, along with her 11-year-old daughter, decided to spread a message of love and acceptance. Amy June Bates is a children's book illustrator, and now author, who knows that one of the best ways to change the world is through children's literature.
We worry too much about having enough. But the more you give the more you have.
It began one day while huddled under an umbrella. Amy's daughter Juniper described a tense atmosphere at her school, and the idea for The Big Umbrella was born. The mother and daughter team talked about inclusion, working together on a picture book, and their view of the future in an interview with Romper.
Romper: The umbrella in your story is magical, able to shelter anyone who needs it. Do you guys think this kind of magic exists in the world? Where can we find it?
Amy: I feel like there is always a part of me that will believe in magic. I think the magic in this book is love. And I think that the best place to find this kind of love is inside yourself.
Juniper: The umbrella also represents communities and towns that accept people from different countries, different families, or clubs or neighborhoods.
The story behind this book is so moving, Juniper, can you talk about where the idea came from?
Juniper: At the time we wrote this book, I had just started middle school, and there was the presidential election and there was a lot of conflict at my school. People were fighting verbally and also physically. It was scary in a way because people I knew were fighting and other people were encouraging that. I felt worried that people were so divided.
The morning after the election it was raining and there was only one umbrella, and my mom was worried that we wouldn't both fit. I said "Don't worry Mom there is always enough room under the Big Umbrella." Then I thought that could be a book. I like inventing characters. During school, I doodled an umbrella that was "our" umbrella.
Amy, when did you realize the idea was a book? And how did you approach working on this story with Juniper?
Amy: I think I knew right away that it was a book. After school that first day when Juniper came home with a bunch of drawing and ideas, I knew for sure that this book had legs. I knew that it was an important book for us, and a good reminder to me about how I want to be, but that it might be for other people too. My daughter and I walk to school together in the morning and on these walks we talk and laugh. During this time it was all about this book and the possible people and characters and who could come under the umbrella. After school, she would come tell me her ideas.
I love the final page, with all kinds of people under the umbrella, are there any favorite details in this illustration or in any of the others?
Juniper: In the middle there are two people drawing. They are us. I put in the octopus with the flower, because it is a pink-speckled many-legged thing. My brother drew a carrot with legs.
Amy: The dog in the book is our dog that we rescued. She has taught me a lot about kindness, and how to help people and animals when they are hurting physically or emotionally.
It's been over a year since the election, a year since the inauguration, have you been surprised by anything that's happened in the last year? Juniper, how are your classmates?
Juniper: There are no longer any physical fights and people are not verbally fighting as much. My friends are not the typical group. We are sort of crazy misfits. I think people stopped talking about politics as much because it made fights. I feel like we need to be more inclusive for everyone.
Amy: I think Juniper is an example to me of being nonjudgmental. She is the heart of this book to me.
A little while ago at school, Juniper was talking to a boy in her class and a "popular" girl said to her, "You shouldn't talk to him he's weird!" and Juniper said to her, "He is not as weird as me!"
I love her.
What do you hope kids and their parents will take away from reading your book?
Juniper: I think parents can use it to encourage their kids to help other kids that are lonely or who need a friend
Amy: I think it was such relief to me in the book when Juniper and I realized that the umbrella just keeps getting bigger. We worry too much about having enough. But the more you give the more you have.
It's such a perfect bedtime, or quiet time book. It's meditative and cheerful. What is it like for the two of you, knowing that kids and their families are going to snuggle up with your book and that it will spark joy and kindness?
Juniper: Wow.
Amy: That is going to make me cry. It is the best thing ever.
Juniper, what are the five books you wish everyone would read (for any age)?
Juniper: The Girl Who Drank the Moon by Kelly Barnhill, Howl's Moving Castle by Dianne Wynne Jones, Mango Shaped Space by Wendy Mass, Rules by Cynthia Lord, Brave by Svetlana Chmakovs, Extra Yarn by Mac Barnett and Jon Klassen, and I Want My Hat Back by Jon Klassen.
Amy, what five books would you share with everyone?
Amy: Just 5? This is hard. Ferdinand by Munro Leaf and Robert Lawson, What Do You Say, Dear by Sesyle Joslin, Jitterbug Jam by Barbara Jean Hicks and Alexis Deacon, Iron Giant by Ted Hughes, Michael Rosen's Sad Book by Michael Rosen and Quentin Blake, Rules of Summer by Shaun Tan, and Roald Dahl… just every book he wrote.