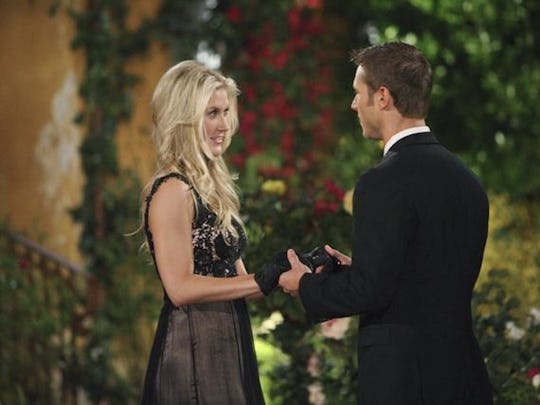 ABC Disney Television Group
Former 'Bachelor' Contestant Lex McAllister Dies From Suicide, Police Say
The Bachelor nation was in mourning, after news that former contestant Lex McAllister died on Tuesday. Police said they received a 911 call on Saturday after a prescription pill overdose. McAllister, 31, was taken to the hospital in stable condition, but she died on Tuesday morning. Authorities said her death was likely suicide, according to Entertainment Tonight Online.
A member of her family reportedly told TMZ that McAllister struggled with depression and bipolar disorder. TMZ also reported that McAllister texted a friend earlier in the day, saying she wanted to end her life, and when the friend checked in on her, it became clear that McAllister had overdosed on prescription pills.
"I am honestly in shock that another beautiful soul would take their life," Tenley Molzahn, another contestant during The Bachelor's Season 14, told E! News. "She was only on our first episode, but she seemed like such a vibrant soul. This is just shocking news no matter how well you know someone."
Gia Allemand, who also competed in Season 14, committed suicide in 2013 at age 29. Her boyfriend, NBA player Ryan Anderson, spoke out about her suicide a year after, wanting to combat the "selfish" stigma that suicide carries. "Anyone who knows Gia knows that selfish was the last thing she was," Anderson told Sports Illustrated, according to People. "She would never want to cause anyone suffering. She just wanted to escape the pain."
"I would like to express my sincere condolences," Vienna Girardi, winner of The Bachelor's Season 14, told E! News. McAllister famously stood up for Girardi after rumors circulated about her and the season's bachelor, Jake Pavelka. "My heart goes out to Lex's family during this difficult time. I remember her being such a positive young lady who could light up any room."
Some have drawn connections between reality TV and subsequent breakdowns or suicides. While there is undeniable pressure associated with being in the spotlight, and fame often draws out the nasty side of both the media and the public, it's necessary to take a step back and remember everyone is fighting a private battle.
This tragic event is a reminder that mental health is just as important as one's physical health. Depression will affect at least one in 10 people, according to Healthline, and 80 percent of those cases go untreated. If you or someone you know is suffering or feeling suicidal, there are resources available online and suicide prevention hotlines one can call.
At this point, no more news has emerged on McAllister, but online, fans have shown an outpouring of support and condolences. Thoughts are with her family and friends at this time.