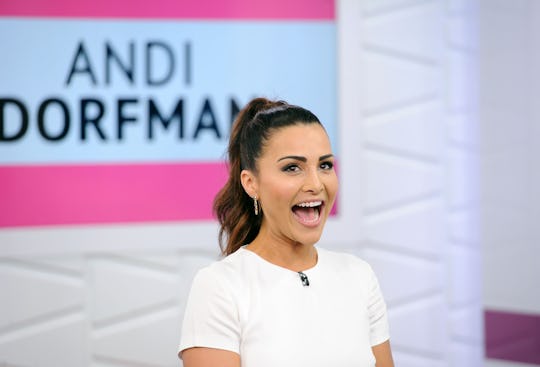 Craig Barritt/Getty Images Entertainment/Getty Images
Former 'Bachelorette' Andi Dorfman Opens Up About Why She's Freezing Her Eggs
The decision to want to be a mom is a choice that many women will undoubtedly have to think about in their lifetime. But the timeline to becoming a mom is so unique for everyone, especially when things don't always go according to a certain plan you may have had in mind. But that is the beauty of life and the reality for Andi Dorfman. After finding love (and falling out of love) on her season of The Bachelorette, Dorfman is now opening up about freezing her eggs due to her desire to become a mom, regardless of where her life may take her, and her honesty is so refreshing.
Dorfman appeared on Season 10 of The Bachelorette, where she got engaged to former professional baseball player, Josh Murray. Fans watched the fiercely independent former lawyer find love — and subsequently split up with Murray nine months later. Throughout her entire journey, Dorfman was truthful with fans about her relationship, publishing her own truth in her first memoir, It's Not Okay: Turning Heartbreak Into Happily Never After.
And now, in her second book Single State of Mind, due out next month, according to Us Weekly, Dorfman is continuing with that trend of honesty. And for the first time, Dorfman is opening up to her fans about finding her independence and how that led to deciding to become a mom sometime in the future. Earlier this year, Dorfman enlisted the help of former Bachelor alum, Whitney Bischoff, to freeze her eggs, according to People. "It's scary to think I only have me to rely on," Dorfman told Us Weekly about her decision. "But there's something liberating about that."
Dorfman opened up to Us Weekly about how she came to the conclusion that she wanted to freeze her eggs and become a mother sometime down the road. Dorman told the magazine:
I always thought "I'm not that old yet." Then I was going to weddings and I realized just how single I am. I can't guarantee a husband, but by freezing my eggs I can guarantee kids. It felt like a great way to take off the pressure. I mulled it over a few months and then I was like "I'm going to do this before I turn 30."
Dorfman's honesty is refreshing, and so helpful towards ending the stigma surrounding egg freezing. There are so many women who know they want to be mothers but due to the timing, or people, in their lives they can't. As Dorfman stated, freezing her eggs is a way for her to guarantee that she will become a mom, when she is ready, even when a partner isn't guaranteed.
Dorfman isn't holding back on how painful the process was, either. Dorfman told Us Weekly that her only way to cope with the physical and emotional pain that came from the egg extraction was to write about it:
I didn't feel comfortable while it was happening. My way was writing about it. Some women feel great; I felt alone and had to come to grips with that. There are some women who will feel the same way. It was necessary but not something to boast about.
Dorfman isn't the first Bachelor alum to make the decision to freeze her eggs, either. In March, Dorfman, along with former Bachelorette, Kaitlyn Bristowe, and Bachelor alum Carly Waddell all made the trip to Chicago together to visit Bischoff, a nurse specialist at the Ova Egg Freezing Clinic in Chicago, to freeze their eggs. At the time, Bischoff told People that there were a lot of misconceptions about egg freezing and hoped Dorfman, Bristowe, and Waddell's experiences could help combat that. Bischoff said, according to People:
There is this negative stereotype that it's somewhat of a desperate measure. But, to be honest, it really is for every woman. Women's bodies are made to have children at 19 or 20, but that's just not how it is. That's not how it works today. Women are furthering their education, traveling, getting professional careers. They're not just settling because they want to have a family. By freezing your eggs, you're able to do all of those things and not have to sacrifice to have a family. You can have it all.
Dorfman's honesty about her decision to freeze her eggs is something that every woman who is unsure about their future can relate to. She might not be ready to become a mom right now, but when she is, she will be more than prepared.
Check out Romper's new video series, Romper's Doula Diaries:
Watch full episodes of Romper's Doula Diaries on Facebook Watch.