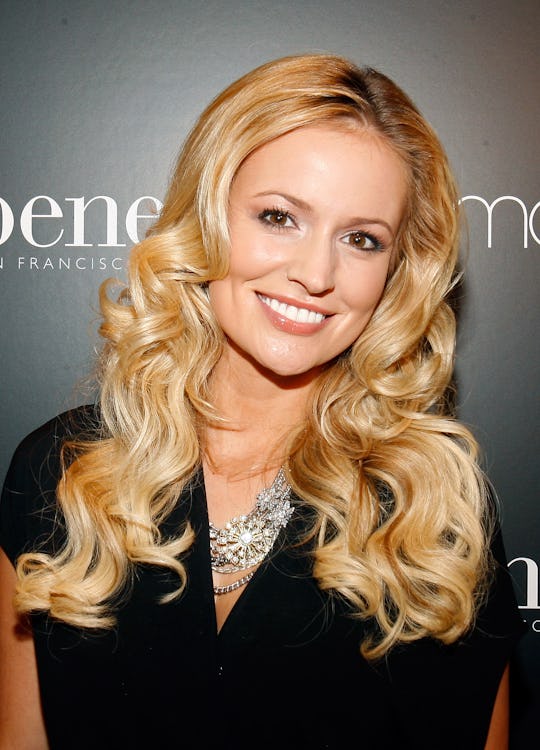 Mike Lawrie/Getty Images Entertainment/Getty Images
Emily Maynard Johnson Opens Up About Why She Regrets Putting Her Daughter On TV
Former Bachelorette Emily Maynard Johnson has her hands full with a growing family and part of her journey was captured before viewers' eyes. In the first episode of Maynard Johnson's season of The Bachelorette, she said her ultimate goal was to meet somebody she could "marry and have children with" and who could be "that father figure" in her daughter Ricki's life, according to ABC News. Six years and three more kids later (with husband, Tyler Johnson, who she met in church — not on the show), she's opening up about her days as a bachelorette. In a recent interview with People, she opened up about why she regrets putting her now 12-year-old daughter on TV, and she's not the only reality star to ever say so.
Maynard Johnson shares a lot of photos of her daughter on Instagram, showing just how close the mother-daughter duo are. "My favorite girl in the world is coming home from her first spend the night school trip and I'm counting down the minutes," she captioned one recent photo. "I've already decided she's never allowed to spend the night any where ever again.
But, despite how close she is with Ricki, she's admitted that, if she could go back, she wouldn't have her daughter around the show as much as she did. With People's Celeb Parents Get Real, The Bachelorette alum said that she wishes she would have kept the show separate from Ricki.
The 31-year-old reality TV star gave birth to Ricki at 19 years old. She told People that Ricki "is the one that makes [her] laugh the most" and is "probably the one that makes [her] cry the most" because they've "really grown up together."
"To see her becoming a grown-up… I cried like a baby at her lower-school graduation," she said in the interview. "People thought somebody had died. I was sobbing, ugly crying — it was horrible."
She now has three sons with her husband: Gatlin Avery, who they welcomed in November, according to E! News; Gibson Kyle, who is just over a year old; and Jennings Tyler who is 2.
But at the time of the show, she was certain that she was going to get married to then-fiancé, Jef Holm.
"At the time, I thought, 'This is it,' and I never would've brought her into it had I not thought that," she said in the interview with People. "So I wish that I maybe would've taken a step back. Maybe sheltered her from that a little bit more."
Maynard Johnson isn't the only reality TV star to regret bringing her children around the cameras. Bachelor contestant Amanda Stanton, who sought Ben Higgins' roses on Season 20, has also voiced regrets about bringing her daughters on the show.
"It was kind of a weird situation, and if I could go back, I would have probably done it a little bit different for sure," Stanton told Entertainment Tonight about her children spending time with Ben on the beach. "I just explained that this is my good friend, and I had been away for a few weeks, so it was kind of a weird situation."
Being a mother and reality TV star is tough, as they often receive unsolicited opinion after unsolicited opinion from criticizers left and right. Stanton even addressed her own mom-shamers on an Instagram story in June, according to Us Weekly. She wrote:
I'd like to take a moment to clarify first of all that my kids DO have a father that is part of their life. They spend time with him too. So if you see a photo of me without my kids one weekend and comment something like 'mother of the year' or 'wow shouldn't she be with her kids?' Well, there's a VERY good chance that I can't be with them because they're with their dad.
It's for that very reason — all the shaming — that many celebrities, from Tori Spelling to Zoë Saldana, for example, keep their children private and mostly shielded from the public eye, according to E! News.
So Maynard Johnson's admitted regrets about her own kids are more than understandable and relatable for so many other moms, those in the same world as she is and those watching from afar.
Check out Romper's new video series, Romper's Doula Diaries:
Watch full episodes of Romper's Doula Diaries on Facebook Watch.