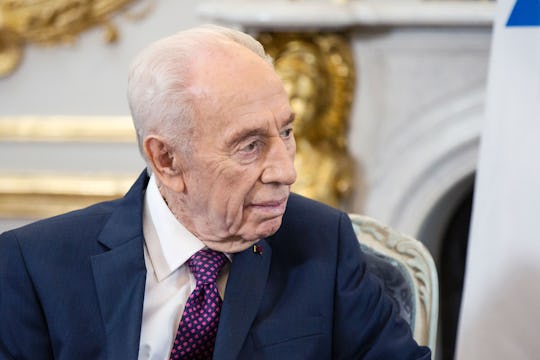 ETIENNE LAURENT/AFP/Getty Images
Former Israeli President Shimon Peres Dies At 93, Leaving Behind A Considerable Legacy
News broke late on Tuesday that former Israeli President Shimon Peres had died at the age of 93, following hospitalization for complications related to a stroke. Peres was first hospitalized on Sept. 13, according to multiple media outlets. Officials said that his condition had deteriorated rapidly and that he had been on a respirator in critical condition prior to his passing.
According to the Israel News Agency and The Guardian, Peres had been "seriously ill on a respirator in an Israeli hospital near Tel Aviv" at the time of his death. Earlier in the month, doctors had confirmed that Peres "suffered a 'major stroke' ... and experienced heavy bleeding in the brain," Politico reported.
Peres is remembered for his role in the "founding of modern Israel," as The Guardian pointed out, and for his part in assembling the Oslo Accords as Israeli Foreign Minister, alongside late Israeli prime minister Yitzhak Rabin and Palestinian leader Yasser Arafat. For his work in the 1994 Accords, Peres received the Nobel Peace Prize.
Peres was first elected to the Israeli national legislature in 1959 and served near continuously until his ascension to the presidency in 2007. After his election, Peres went on to serve a controversial seven-year term, one that, as Israeli columnist Nahum Barnea wrote, ended divisively in 2014:
In his people's eyes he ceased to be a politician. He became an historic figure, larger than politics, larger than everyday affairs, a figure in a league of his own.
As BuzzFeed's Miriam Elder and Sheera Frenkel noted, in a 2014 profile, not everything was smooth sailing throughout his tenure — something Peres admitted stemmed from his practice of making difficult decisions that flew in the face of public favor:
Peres was hailed as a brave visionary for signing a peace deal despite lack of popular support. The 90-year-old has served in nearly every Israeli government since the country's inception — but has never won a popular vote. He blames his pushes for often unpopular decisions. "I paid for it painfully," Peres said. "I paid in elections and in record."
One of those unpopular decisions was standing apart from Israeli Prime Minister Benjamin Netanyahu — though outward appearances seemed largely civil and cold at worst. "... I must be restricted [in my criticism]," Peres told BuzzFeed, in the same interview. According to the outlet, Peres seemed "frustrated with the pace" of the ongoing peace talks, not blaming Netanyahu directly, but lamenting the combination of perceived inaction and the apathy plaguing the country's citizens. "The minute I should be out of the cage, I should probably fly again; maybe then in a clearer way I will express myself," he added. "To make peace is the only business I care about."
According to Reuters, an official government announcement is set for 7 a.m. local time (04:00 GMT). Funeral details will also be disseminated at that time.