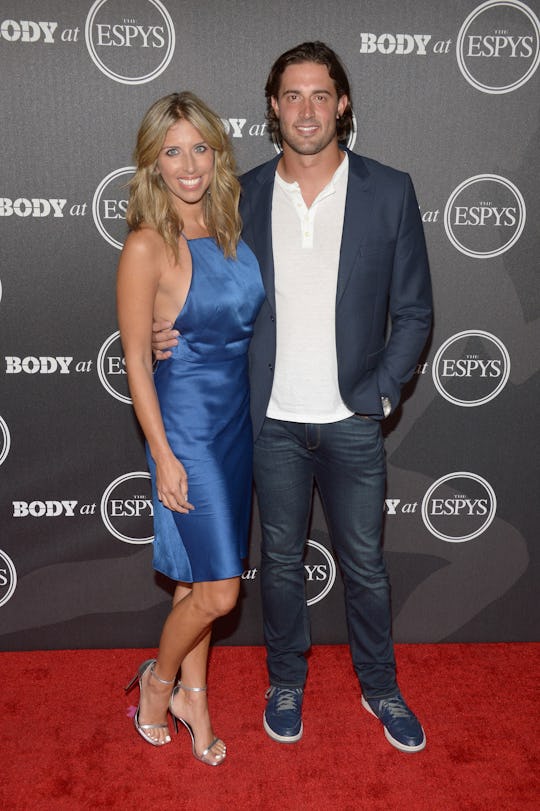 Dave Mangels/Getty Images Entertainment/Getty Images
Sarah Walsh Reveals She Had A Miscarriage
On Mother's Day, in an Instagram post celebrating her recently born twins, former ESPN anchor Sara Walsh shared that she'd once had a miscarriage while filming a live episode of "SportsCenter" in Alabama. In her post, Walsh called her twins her "only good eggs," and spoke candidly about her and her husband's long struggle to get pregnant.
In Walsh's picture, she was lounging happily in a hammock alongside her infant twins, Hutton and Brees Buschmann, who each wore a onesie emblazoned with the words "Good egg." For Walsh, those words were more than just a cute saying.
"Finding a good egg didn't come easy for me, and I suspect there are many people out there facing the same struggle," she wrote on Instagram on Sunday. She continued:
The road down a dark path began while hosting Sportscenter on the road from Alabama. I arrived in Tuscaloosa almost three months pregnant. I wouldn't return the same way. The juxtaposition of college kids going nuts behind our set, while I was losing a baby on it, was surreal. I was scared, nobody knew I was pregnant, so I did the show while having a miscarriage. On television. My husband had to watch this unfold from more than a thousand miles away, texting me hospital options during commercial breaks.
Walsh didn't say when the heartbreaking incident occurred, but according to the Huffington Post, Walsh hosted a live episode of SportsCenter from Alabama in November 2014. After that first miscarriage, she wrote on Instagram, she had two more failed pregnancies. More than once, Walsh had to have "surgery one day and be on SportsCenter the next" in order to keep her struggles private.
"We then went down the IVF road of endless shots and procedures," Walsh wrote. "After several rounds, we could only salvage two eggs. I refused to even use them for a long time, because I couldn't bear the idea of all hope being gone."
When Walsh and her husband, Matt Buschmann, finally did use the two eggs and Walsh became pregnant with twins, she didn't dare celebrate or share the news, and she hid her pregnancy from nearly everyone. "There would be no baby announcement, no shower, we didn't buy a single thing in preparation for the babies, because I wasn't sure they'd show up," she wrote. Despite her fears, however, Walsh and Buschmann welcomed Hutton and Brees into the world in late January.
For years, hosting "SportsCenter" on Mother's Day was "personally brutal," Walsh wrote on Instagram. This year, things were different for the mom of two for two very different reasons: yes, she may have been included in ESPN's recent round of layoffs, but she also had Hutton and Brees by her side after "years of struggle."
"I wasn't on tv today, and I'm not sure when I will be again, but instead I got to hang with these two good eggs," Walsh wrote on Mother's Day. "My ONLY good eggs. And I know how lucky I really am."
Kudos to Walsh for sharing such a deeply personal story, and congratulations to her and Buschmann for celebrating their very first Mother's Day. Dealing with fertility struggles is uniquely challenging for every individual who goes through it, but by opening up about her own journey, Walsh may help other women know that they're not alone.