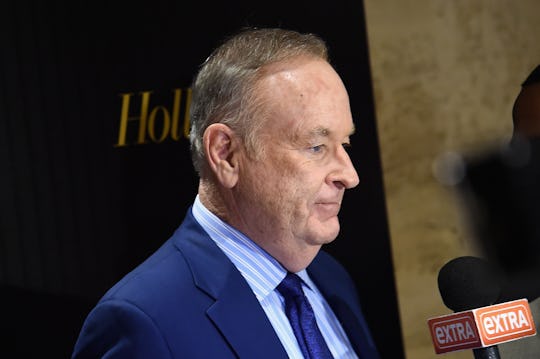 Ilya S. Savenok/Getty Images Entertainment/Getty Images
The Timing Of Bill O'Reilly's Firing Is Troubling
It's official: After several sexual harassment allegations and the loss of at least 70 advertisers, Fox News has finally pulled the plug on The O'Reilly Factor's prime-time presenter. "After a thorough and careful review of the allegations, the Company and Bill O'Reilly have agreed that Bill O'Reilly will not be returning to the Fox News Channel," 21st Century Fox said in a statement on Wednesday, according to CNN. However, it's interesting that Fox News' firing of Bill O'Reilly came only after advertisers began dropping from the show en masse, rather than after a total of five women accused him of sexual harassment.
An investigation, published in The New York Times on April 1, found that five women had received payouts from O'Reilly or 21st Century Fox over the years. The settlements, which came to a total of approximately $13 million, were paid out for claims of harassment that took place as early as 2002. In exchange for the settlements, women agreed not to speak about their allegations against O'Reilly or pursue any litigation.
To be clear, O'Reilly has denied the allegations. "Just like other prominent and controversial people, I'm vulnerable to lawsuits from individuals who want me to pay them to avoid negative publicity," he said in a statement to The New York Times. At the time of the New York Times' investigation, 21st Century Fox told the newspaper that it had "looked into these matters" and discussed them with O'Reilly. The company would not share whether O'Reilly had ever been disciplined.
On Wednesday, just a couple of weeks after The New York Times investigation was published (along with 21st Century Fox's statement at the time), 21st Century Fox distributed a statement to the press, saying the decision to finally say goodbye to O'Reilly came after "a thorough and careful review of the allegations." However, the first public sexual harassment lawsuit filed against O'Reilly (by a producer on his show) came in 2004. The second lawsuit — which was settled behind closed doors — took place in 2011. In 2016, two more women won settlements after complaining about alleged harassment that took place in years past.
What it comes down to is this: Fox News had plenty of time to review the allegations against O'Reilly — several years, in at least two cases — but the decision to fire him only came after more than 70 companies pulled their ads from The O'Reilly Factor. It seems that as long as O'Reilly was able to keep pulling in good ratings (an average of 3.9 million viewers a night) and good advertising revenue ($178 million in 2015 alone), his employers were able to set aside the multiple allegations against him. They were even willing to pitch in and settle some of those lawsuits with him in exchange for women's silence.
At least two of the women who took action against O'Reilly and the network reportedly had recorded conversations with him, according to The New York Times. They also were not alone in their accusations. If Fox News was willing to stand by O'Reilly's side in the face of multiple recorded conversations and allegations from five different women, then it should have been secure enough in its conviction to remain by his side when 70 different advertisers dropped his show.
Unfortunately, by prioritizing profits over people, Fox News unwittingly showed us that society in general still has a long way to go when it comes to taking women seriously. Fox News' firing of O'Reilly effectively proved the power of journalism and the sway the public has over advertisers, but it also, unfortunately, serves as a reminder of just how far we have to go when it comes to respecting women's claims in the workplace.