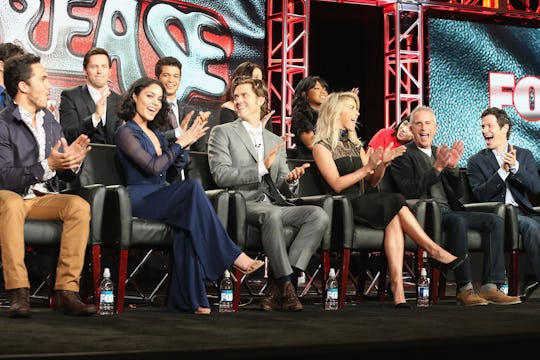 Frederick M. Brown/Getty
FOX's 'Grease: Live' Releases New Teaser & It Looks Pretty Dope
The Broadway musical legend and staple — Grease — is getting an updated look and sound with a live production broadcast on FOX. Grease: Live released a new teaser on Saturday, showing a behind-the-scenes look at rehearsals as the cast prepares for the live event on Jan. 31. Grease: Live will star Julianne Hough as good-girl-gone-bad Sandy Olsson opposite Aaron Tveit as Danny Zuko, the hot bad boy of Rydell High. They'll be joined by Vanessa Hudgens as the sassy Rizzo and Carly Rae Jepsen as Frenchy, of the Pink Ladies. The live production will also include R&B group Boyz II Men singing the classic doo-wop tune, "Beauty School Dropout" and Joe Jonas's group DNCE as Johnny Casino and the Gamblers.
The teaser features clips of the intense rehearsal process, as well as clips of pop singer Jessie J singing an updated and totally hip version of "Grease Is The Word." The live production looks ambitious, according to the new teaser from FOX, as it will comprise multiple stages and sets outside — rain or shine. As Hough notes in the teaser, there will be "Cameras everywhere, we're going to be running from stage to stage."
During the production's press tour this week, it was revealed that after all these years, Frenchy will finally have her own song, sung by Jepsen. Executive Producer Marc Platt also revealed that some lyrics have been updated so they're not quite as dated (or offensive) as the original script from 1971.
Okay, I'll confess: After playing Teen Angel #4 in high school, I have some pretty strong opinions about Grease — but, I've got to admit: Jessie J's performance is pretty darn catchy and it's clear Grease: Live gives this Broadway (and high school drama department) favorite a fresh coat of paint and awesome. Despite being in my oh-so-jaded thirties, Grease: Live really does look like a whole lot of fun. At the very least, it can't possibly be as bad as the travesty of stage and television that was NBC's Peter Pan Live.
Grease: Live will air on Saturday, Jan. 31 at 7 p.m. Eastern on FOX.
Images: Frederick M. Brown/Getty; Grease: Live/Twitter