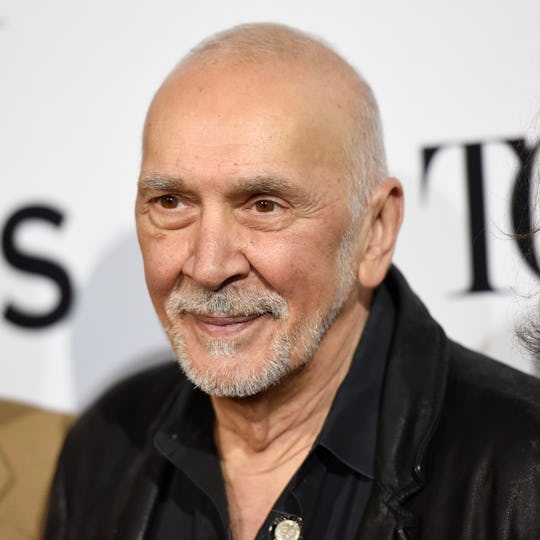 Matthew Eisman/Getty Images Entertainment/Getty Images
Frank Langella's Tonys Acceptance Speech About The Orlando Shooting Was Touching
Actor Frank Langella took the stage at the 70th Annual Tony Awards to accept his award for Best Lead Actor in a Play, which he snagged for his role in The Father. Langella began by joking about his age and winning the Tony 50 years into his career, but soon after, he switched tones. Langella's Tonys acceptance speech about the Orlando shooting was an extension of empathy to the victims' families and the city that suffered such a great tragedy.
"There are so many names I wrote down today to thank you, but I hope they will forgive me if I bring in a dose of true reality: what happened today in Orlando," Langella said. "I found some words that I think will mean more to you than a litany of names. When something bad happens, we have three choices: we let it define us, we let it destroy us, or we let it strengthen us."
Langella continued:
Today, in Orlando, we had a hideous dose of reality. I urge you, Orlando, to be strong, because I'm standing in a room full of the most generous human beings on earth, and we will be with you every step of the way. Thank you.
It was a touching speech, and fans across the world agreed. One Twitter user, Kevin O'Keeffe, wrote, "Frank Langella is dad telling us that everything's gonna be okay and honestly I didn't know how much I needed that." Others called Langella "sincere and classy" and his speech "a bright spot."
Langella's entire speech was classy and humble, and he also reminded aspiring artists to remain patient and enjoy the journey. He recounted the time he visited an an astrologer early on in his acting career, only to be told he would achieve great successes later on in his career. "I thought she meant 30," he said. "But the fact of the matter is, there really is no 'late' in an actor's career. There's just the journey and there's just now."
Whether he was reassuring young actors — or old actors, or anyone — to enjoy the journey and the present moment or whether he was helping the world get through a depressing setback of a day, Langella nailed it. Backstage, he spoke about his own difficult experience in seeing his brother go through dementia — and how connecting to others gave him strength.
My brother has dementia. My brother is very much alive in me every time I play Andre in The Father. He's doing well. He goes in and out. But I'm not alone in this. I've never played a role in which so many people come backstage and sit on the floor of my dressing room and weep. Not necessarily because of my performance, but because how many of us are dealing with people who are losing reality. And people who suddenly don't know who you are. That's been the most powerful thing I've discovered in this.
It's touching — with his words tonight, Langella extended that same connection to everyone affected by the Orlando tragedy.