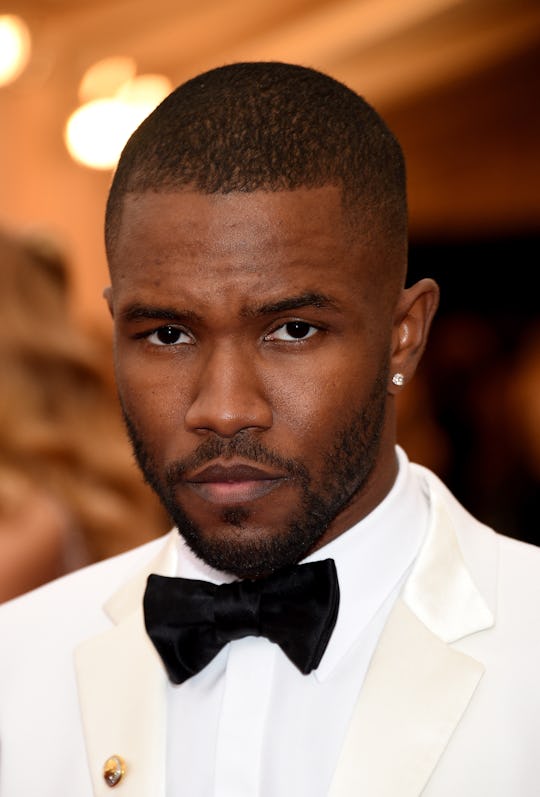 Larry Busacca/Getty Images Entertainment/Getty Images
Frank Ocean's Mysterious Live Stream Is Driving Fans Bonkers
It has been four years since the release of Frank Ocean's debut album Channel Orange and fans have been dying for Frank Ocean's follow up. Unfortunately, every time fans think they're going to get a new album from Frank Ocean, the date keeps on being pushed back. Now you can see why Frank Ocean's mysterious live stream is driving fans bonkers — because it might mean that new music is on the way...once they figure out what exactly is going on.
What exactly is so cryptic about the live stream? For the past two hours, the camera has been set on a room in black and white, where there are speakers and a man cutting wood with a...saw? And there is music that occasionally blasts from the speakers? According to Consequence of Sound, the stream has been up on Frank Ocean's website, since 3:30 a.m. Sometimes the angle changes and sometimes the music fades in and out but whatever is going on — it is mysterious and has fans on the internet going wild.
But I can see why fans are going bonkers over this mysterious video on Frank Ocean's website. In 2016, music fans have seen two different albums be released this way.
First, in February when Kanye West live streamed his new album, The Life of Pablo on Tidal from an event in Manhattan at Madison Square Garden. Then, fans had to relive the cryptic agony when they tuned into HBO in April, to see the debut of Beyonce's visual album, Lemonade. Frank Ocean debuting an album through his website isn't a far off idea.
I can see why fans are freaking out. In April 2015 Frank Ocean announced that his newest album would be called Boys Don't Cry and would be released in July of that year. One year later, Ocean hinted on his tumblr page that the album would be released at the end of July. So, fans weren't surprised that Ocean's album didn't drop by the 31st. But, at 3 a.m. on August first, the live stream showed up on Frank Ocean's website. And now everyone is confused.
Frank Ocean knows that he has been making promises he can't keep. On his website, there is a picture of a library card with a bunch of dates blocked out — dates that have since passed without a Boys Don't Cry release. The last date on the card is July 2016. So even if Frank Ocean is one day late, at least this time he isn't too far off from his promises?
Hopefully, as fans continue to watch the live stream throughout the day, full songs from Boys Don't Cry will be released, rather than the current snippets Ocean is currently showing on the live stream. Fans have waited long enough for the album's release so it would only be fair for them to finally hear a song. Please, Frank Ocean, give us something.