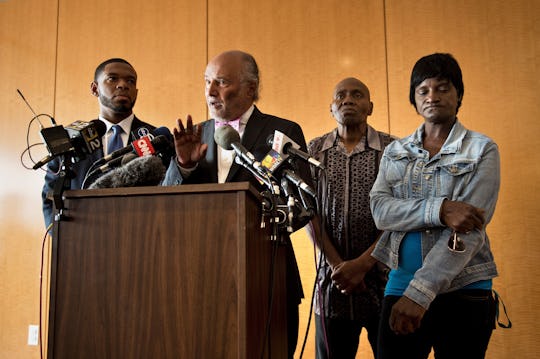 BRENDAN SMIALOWSKI/AFP/Getty Images
Freddie Gray's Family Responds To Charges Being Dropped With Nothing But Grace
On Wednesday, Baltimore State's Attorney Marilyn Mosby announced that the prosecution has dropped all charges against the three remaining police officers charged in the death of Freddie Gray. After the mistrial of Officer William Porter, and the acquittals of Officers Edward Nero and Caesar Goodson and Lt. Brian Rice, convictions of the remaining defendants on lesser charges became increasingly unlikely. Freddie Gray's family's response to the dropped charges was simple and to the point: "I know they lied, and they killed him," Gray's mother, Gloria Darden, said. Gray's stepfather, Richard Shipley, said that the family is "proud to have [Mosby] represent us," according to the Associated Press.
According to the Baltimore Sun, during a pretrial hearing of Officer Garrett Miller on Wednesday morning, Chief Deputy State's Attorney Michael Schatzow told Circuit Judge Barry G. Williams that the state requested to drop the charges against Miller, as well as Porter and Sgt. Alicia White. In a subsequent press conference, Mosby said that although no convictions were obtained in the cases, there were still gains; police officers must now wear body cameras and ensure that detainees are properly secured in police vans, which are now also equipped with cameras. Other policies have also been put in place to ensure the safety of citizens. Officers are now required to call a medic when one is requested, and to intervene when a fellow officer uses excessive force.
Gray was arrested on April 12, 2015, shackled by his hands and feet, and placed, unrestrained, in a police van, according to CNN. Officers were accused of giving Gray a "rough ride" – that is, intentionally driving recklessly in order to cause him injury. Gray fell into a coma after he sustained what Mosby referred to as a "severe and critical neck injury" during transport, according to CNN, and died one week later. His death was ruled a homicide, and a total of six officers faced charges ranging from misconduct to murder.
Today's statements by Gray's family are just the latest in a series of occasions where they're spoken out on their disappointment and frustration over the lack of accountability regarding Gray's death. After Porter's hung jury, Shipley addressed the public: "We are calm. You should be calm, too." Following Goodson's acquittal, attorney William Murphy, speaking on behalf of the family, called the decision to exclude cameras from the courtroom a "serious mistake." The family was awarded a $6.4 million wrongful death settlement in September, according to the Washington Post, but unfortunately, it appears they'll never see justice for Gray's death.