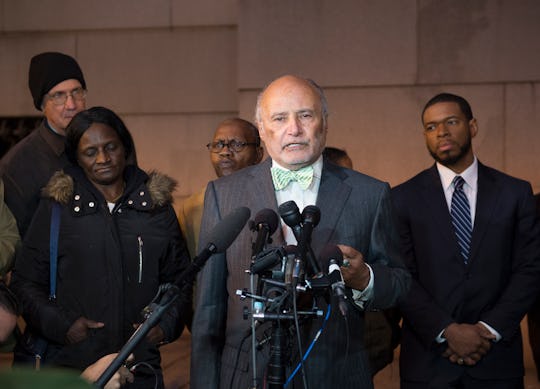 MOLLY RILEY/AFP/Getty Images
Freddie Gray's Family's Response To The Caesar Goodson Verdict Will Likely Be Peaceful
On Thursday, Judge Barry Williams acquitted the Baltimore Police Officer facing the most serious charges in the death of Freddie Gray, of all charges, and some have said it's a signal that none of the officers involved in Gray's death will be convicted of a crime. And while it's unclear just what Freddie Gray's family's response to the Caesar Goodson verdict will be exactly, based on how they've handled themselves throughout their ordeal, it's a likely bet it will be gracious, it will reaffirm their respect for the legal system, and it will call for peace and calm from those who might be moved to protest and riot in the wake of the ruling.
Caesar Goodson, Jr. is the 46-year-old officer who was driving the van Gray was put into in handcuffs and without a seatbelt, according to prosecutors. Prosecutors then alleged that Goodson gave Gray a "rough ride" as punishment for being unruly, according to the Baltimore Sun. When Gray was pulled out of the back of that police van on April 12, 2015 he suffered severe injuries to his spine and neck, according to the Sun. He died a week later from his injuries. Goodson faced the most serious charges of the six officers involved in the incident, including "depraved heart" murder because, prosecutors alleged, he had at least five opportunities to "render aid" to Gray but didn't.
According to the family attorney, Gray was arrested for what amounts to "running while black," according to a detailed accounting of Gray's time in custody from the BBC.
Edward Nero was also acquitted by the Judge Barry Williams in late May. Williams said he found no "recklessness or negligence" on Nero's part, according to the Associated Press. Both Nero and Goodman opted for a trial by a judge, or bench trial, rather than face a jury. All the while, the Gray family has called for justice, peace, and has said they respect the rule of law.
When news of Nero's acquittal broke on May 23, the Gray family said in a statement through their attorney Billy Murphy, they respected the verdict and Judge Williams for "not bending to public opinion in analyzing the case," the AP reported.
Despite the fact that not one of the officers involved in Freddie Gray's death has been found criminally liable, the Gray family was awarded a $6.4 million settlement to avoid a civil suit against the City of Baltimore.
Meanwhile, Baltimore's activist leaders, like DeRay McKesson, have indicated that more unrest could follow Goodman's acquittal, similar to the protests and riots that took over swaths of Baltimore directly following Gray's funeral last spring.
But, once again, you'll likely hear calls for peace from Gray's family, who requested peace after his funeral just over one year ago.
As soon as Nero was acquitted in May, The Daily Beast argued none of the cops would be found guilty, and now it looks like those predictions could be proving true.
Even while mourning Gray's death, his family called for calm in the city. If Baltimore erupts again following Goodman's acquittal, they will probably do the same.