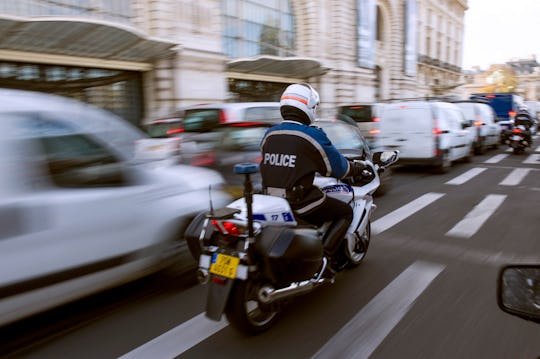 Fred Dufour/Getty Images
French Police Release Name & Photo Of Eighth Paris Suspect, As International Manhunt Continues
On Sunday morning, French authorities announced that despite previous reports claiming that all assailants in the Nov. 13 Paris attacks were believed to be dead, there was one more suspect who might be at large. Just hours later, as the manhunt continued, Paris police released the name of the eighth suspect, as well as his photo. In doing so, police hope the public can be of some help in locating the alleged attacker, and urge anyone who has seen, or has any knowledge of the man to notify authorities immediately. According to French police, the suspect's name is Salah Abdeslam, a Frenchman who is believed to be the brother of two other men linked to the Paris attacks on Friday.
According to the Associated Press, Abdeslam rented a black Volkswagen Polo that was then used by several of the Paris attackers who rounded up hostages inside the Bataclan concert venue Friday. That attack alone left 89 dead. An investigator speaking with AP Sunday did so on the condition of anonymity, and clarified that while one of Salah's brothers died in the attack, the other has since been arrested in Belgium, where the attacks were allegedly planned out in advance. A raid in Belgium yesterday also led to the arrests of seven other individuals linked to the attacks, and the release of one other suspect's name: alleged attacker Ismael Omar Mostefai, a 29-year-old believed to be from Chartres, France.
The city of Paris is still reeling from the brutal attacks on Friday, in which over 130 people were killed, over 350 were injured, and nearly 100 were critically injured. While authorities continue to learn more about the attackers — who struck in six different locations throughout the city, including popular restaurants, outside a sports stadium, and inside the Bataclan concert venue, where hostages were rounded up and 89 were killed — the investigation itself is complex and ongoing.
This morning, President Obama spoke again about the Paris attacks at the G20 summit in Turkey, where he said after meeting with Turkish President Recep Erdogan that the attacks were "an attack on the civilized world." Obama continued:
The skies are darkened by the horrific attacks that took place in Paris. We stand in solidarity with them in hunting down the perpetrators of this crime and bringing them to justice.
In his own comments following the attacks, French President Francois Hollande also didn't mince words, and called the events an "act of war."
Image: Fred Dufour/Getty Images