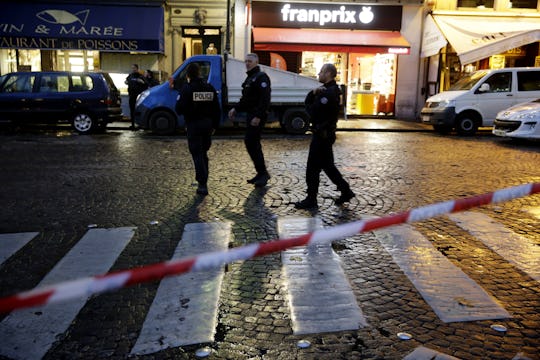 KENZO TRIBOUILLARD/Getty Images
French Police Seek Second Fugitive In Connection To The Paris Attacks
Just two days after an international manhunt was launched for Salah Abdeslam, one of the alleged Paris attackers, the Chicago Tribune reports that French police are also searching for a second fugitive in connection to the Nov. 13 terrorist attacks. So far, no further details about the suspect's identity have been released, unlike Salah, whose name and photo were almost immediately shown to the public on Sunday. The Tribune reports that three officials who spoke on the condition of anonymity about the investigation revealed the news, stating that one person directly involved with the attacks was still "unaccounted for."
Meanwhile, the search continues for Salah Abdeslam, who remains on the run since Friday's attacks. On Tuesday morning, Abdeslam's brother, Mohamed, came forward to urge his sibling to turn himself in. Speaking to the French television channel BFM, Mohamed said: "Of course I call on him to turn himself over to the police. The best would be for him to give himself up so that justice can shed all the light on this." Another Abdeslam brother, Brahim, was reportedly also involved in the attacks, though he was one of the suicide bombers who died during the massacre.
In total, seven attackers were killed during the Nov. 13 attacks, which claimed over 130 victims, wounded 350, and led to 99 critical injuries. So far, authorities have only issued a warrant for Salah Abdeslam. In disturbing video released Sunday, ISIS officially claimed responsibility for the events, while threatening to "strike America at its center" — aka Washington, D.C. Just one day later, ISIS also claimed responsibility for the Nov. 12 bombings in Beirut, which claimed the lives of 40. To date, nine individuals have been arrested in connection to those attacks — seven Syrian nationals, and two Lebanese, according to CNN.
This story is developing...
Image: KENZO TRIBOUILLARD/Getty Images