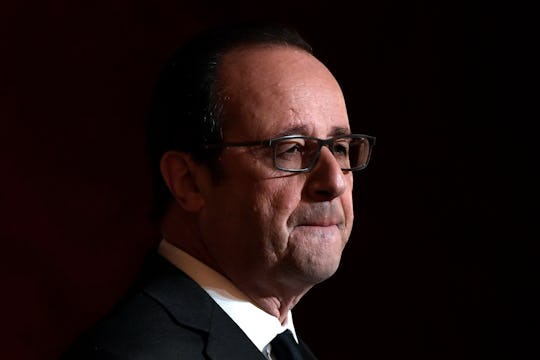 LIONEL BONAVENTURE/AFP/Getty Images
French President Hollande Won't Seek Re-election, In A Rare Move Not Seen In Years
In a rare move that his home country has not been witness to for many years, French President François Hollande has announced he won't seek re-election. The news was announced on Thursday during a televised address, during which Hollande reportedly said that he was "aware of the risks" of not being able to rally enough support and the threat of possible protest from opposing parties, therefore he has decided not to run for a second term in next year's presidential election, making him the first sitting president in modern French history to do so since 1958.
"I have thus decided not to be a candidate in the presidential elections," the Socialist leader announced on Thursday, according to The New York Times.
Throughout his short presidency, Hollande has reportedly faced with very low popularity ratings and Thursday's announcement put an end to weeks of speculations about whether he would participate in the nation's next election. According to The New York Times, his poor approval ratings reflect several factors that took place during his presidency, such as his struggle to create jobs and swiftly reduce unemployment as well as some of the world's worst terrorist attacks in modern history to happen on French soil in recent years.
Shortly after he announced the surprising move, Hollande posted several tweets in French that humbly acknowledged both his failures and successes during his presidency.
"I have engaged our armies in the world to protect us, to fight terrorism," he wrote in one tweet, a possible reference to the state of emergency that was brought in after terror attacks killed hundreds of civilians in Paris, Nice, and elsewhere.
"I made advance freedoms, equality between couples has been strengthened. I upgraded our democracy with the territorial reform," Hollande wrote in another tweet, referencing to to the legalization of same-sex marriage in 2013.
In his last post in the series of tweets, Hollande wrote that he would continue to lead the country for the remainder of his term. He wrote, "In the coming months my only duty will be to continue leading the state, mandate for which you elected me in 2012."
The BBC reports that with Hollande out of the running, a spot for another Socialist party candidate has opened up, which will likely be filled by Prime Minister Manuel Valls as he is already considered a favorite and said just last weekend that he was ready to run.
According to The Atlantic, if Valls were to be the Socialist candidate, he would likely run against ex-Prime Minister François Fillon of the Republican party, former economy minister Emmanuel Macron for the Independents, and Marine Le Pen, the far-right National Front candidate who has called for France to leave the European Union.
French voters will go to the polls in a matter of months — in April of next year — so with Hollande not seeking another term in office and his spot up for grabs, the nation's next presidential election will certainly be an interesting one.