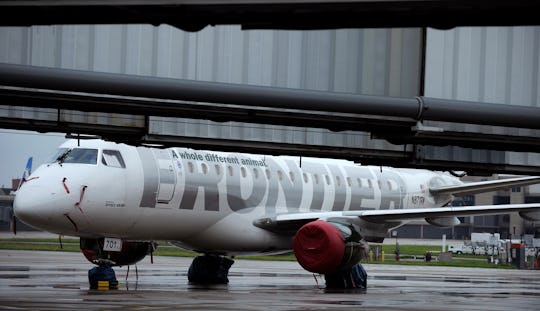 Jeff Swensen/Getty Images News/Getty Images
Frontier Employees Levy Breast Pumping Allegations
The airline industry is back in the spotlight, but this time it's not the passengers who are unhappy. Two female flight attendants recently alleged that the budget airline they work for didn't properly account for their postnatal needs. The Frontier Airlines employees alleged that they weren't given a place to pump breast milk, which supposedly impeded their ability to continue working. Romper has reached out to Frontier for comment but has not heard back at this time.
Flight attendants Jo Roby and Stacy Rewitzer claimed that "they were forced to take unpaid leave after giving birth when the airline refused to provide accommodations that would allow them to pump breast milk while on duty," BuzzFeed News reported. The complaint was filed with the American Civil Liberties Union of Colorado as well as the law firm of Holwell Shuster & Goldberg, and it alleged that Frontier's inability to cater to the women's needs is a discriminatory issue.
Galen Sherwin, a senior staff attorney with the ACLU Women's Rights Project asked: "How is it that a job that is majority female still fails to take into account pregnancy and breastfeeding?" Sherwin urged for change: "It's time for Frontier to start addressing the needs of pregnant and breastfeeding workers — both inside and outside the flight deck."
In a blog post on ACLU's website, Roby outlined her alleged experience with Frontier, both before and after baby. "Ultimately," she claimed, "Frontier has literally forced me to choose between breastfeeding my child and doing my job." Citing the fact that "Frontier did not have any breastfeeding policies in place" combined with a lack of paid maternity leave, Roby alleged that she "had to get creative," pumping in the airplane lavatory whenever possible, despite it being "unpleasant" and "challenging" for her.
"Even at my own base in Denver," she claimed, "my only option for pumping was to sit on the floor of the family bathroom." Roby alleged she had no choice but to leave her job, claiming, "Frontier not only refused to help me arrange a schedule that was compatible with pumping — it went even further and prohibited me from pumping on board the aircraft at all."
A statement from a Frontier Airlines spokesperson this week refuted the employees' claims. "We have made good-faith efforts to identity and provide rooms and other secure locations for use by breast-feeding flight attendants during their duty travel," the spokesperson stated.
This type of suit isn't unprecedented for the airline. Last year, four, female Frontier pilots sued for their breast pumping rights as well. At the time, the airline insisted that it was already in compliance and that breast pumping stations were available at all airports from which it operated.
For her part, Roby has claimed that the airline still needs to change its ways. "No one should have to choose between being the mom she wants to be and pursuing the career she loves," Roby stated in the suit, urging the airline to more fully accommodate breastfeeding moms (though the airline claims it already does). For now, the suit is ongoing, and will hopefully be resolved soon.