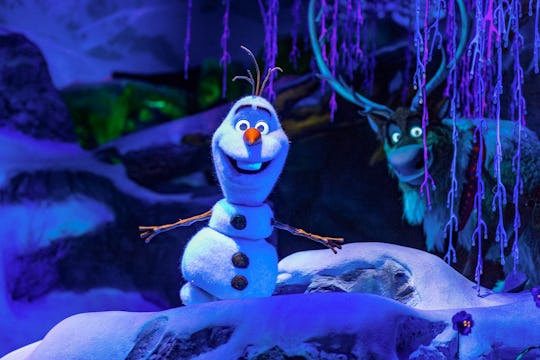 Handout/Getty Images Entertainment/Getty Images
'Frozen 2' Finally Gets A Release Date
Gather round, Disney fans. Just as Cinderella and Beauty and the Beast got modern-day remakes, and Finding Nemo got a much-anticipated sequel in Finding Dory, impatient fans of the beloved movie Frozen will soon get their due reward. Well, maybe not too soon. Because even though Disney revealed on Tuesday that Frozen 2 finally has a release date, you'll still need to be patient.
According to Disney Animation's official Twitter page, the follow-up to the 2013 blockbuster hit will be coming to theaters on Nov. 27, 2019. Yes, that's more than two years away, but honestly, it's worth it.
Disney isn't exactly releasing the sequel directly on the heels of the original Frozen film, which debuted in November 2013. But that isn't really too surprising. After all, it took Disney-Pixar 13 years to make Finding Dory after its predecessor premiered in May 2003, and fans agreed that it was well worth the wait. And a second Frozen isn't the only thing Disney has on the books. Reports have also indicated that a new Toy Story film will be coming in 2018 (making it the fourth film of the series), and a sequel to The Incredibles will also be arriving on the big screen in 2019.
However, the news of a second Frozen movie's release date is Disney's latest announcement, and fans are already excited.
While news that a Frozen 2 will be made first broke in 2015, this is the first news Disney has shared about the upcoming film since then, although no plot details have been shared yet.
However, we do already know that Kristen Bell and Idina Menzel will be returning to their iconic roles as Elsa and Anna, as will Josh Gad as the lovable Olaf.
And as Let It Go, was the biggest Disney song in decades, many are speculating how Disney could possibly top a Grammy, and Academy Award-winning number. Film critic Tim Robey observed that the writers will likely attempt to make the new film more sister-centric, having Anna and Elsa in more scenes together.
"I think they'll definitely try to position one song as a Let It Go-trumping central number," he said. "At a guess, though, it might be a duet between the sisters." Whatever they choose to do, though, Frozen 2 is definitely in line to be another huge Disney hit, despite the years-long wait.
In a 2016 interview, Kristen Bell confirmed that the writers were working hard to perfect the new film's script, saying, "The story is great, and they exude quality," referring to the writers. "What I know about that whole team is that they wouldn't just put something out to put it out. That's why it took them so long to even announce that we were doing a second one."
Truly, practice makes perfect. And if Finding Dory and all the Toy Story sequels are any indication, Frozen 2 is on track to become just as magical as the first.