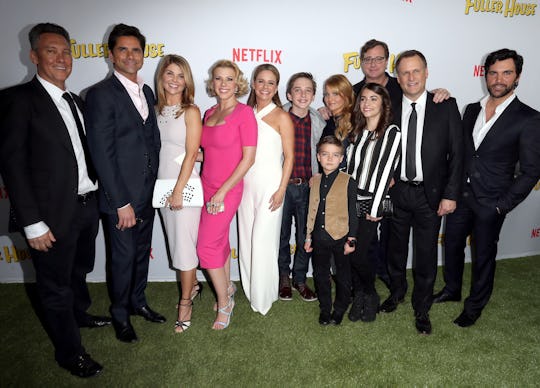 Frederick M. Brown/Getty Images Entertainment/Getty Images
'Fuller House' Is Renewed For Season 2, & People Are Shockingly Psyched About It
Is this what Donald Trump was talking about when he said he'd "Make America Great Again"? Full House, that corny show we all pretended not to watch on Friday nights, has not only been rebooted on Netflix in the form of Fuller House, but it's been renewed for Season 2, and fans are way too happy about it. For those who grew up without a television, Full House was the anchor of ABC's TGIF lineup from 1987 to 1995, and centered around a widower, his best friend, his brother-in-law, and his brother-in-law's wife taking care of five kids and a dog in a deceptively narrow-looking San Francisco house. This house had the power to magically expand along with the family, eventually growing a basement that contained a bachelor pad and an advertising agency, as well as an attic large enough to house a family of four comfortably. No word on how many bathrooms they had.
Fuller House features the same cast (minus the Olsen twins, who are too busy with their fashion empire) in the same house, doing the same thing. Only now the kids are grown, and the oldest, D.J. Tanner-Fuller (Candace Cameron Bure) is herself a widow, and her sister, Stefanie (Jodie Sweetin), and her best friend, Kimmy Gibbler (Andrea Barber) are raising four kids and a different dog (who looks identical to the original dog, and has a similar name). What could possibly go wrong?
According to critics, Fuller House is the worst thing humanity's ever created, and that's including the atomic bomb. Vulture called it "excruciating," and said that "[f]uture societies will have no choice but to judge us harshly for our sins." The Washington Post noted that "[t]here's a point where nostalgia becomes more like necrophilia," and Las Vagas Weekly likened the pilot to a "live-action BuzzFeed listicle." So how in the world did a series whose script is little more than a string of 25-year-old catchphrases and impressions of long-forgotten cartoon characters get picked up for a second season? Fan are absolutely bonkers for it. Check it out:
The people have spoken. This is what you asked for, America. Dave Coulier is back on our TV screens doing that ridiculous "cut it out" gesture, youths are communicating nearly exclusively via cartoon icons, and Donald Trump is becoming an increasingly likely candidate for president. President of the whole dang country! Look at what you've done, America. What do you have to say for yourselves?