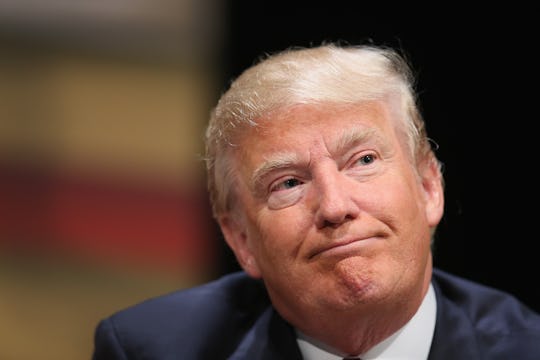 Scott Olson/Getty Images News/Getty Images
'Fuller House' Makes A Donald Trump Joke, & It's Enough Of A Reason To Watch The Series
When you thinks of Full House, you don't necessarily think political commentary. But Fuller House makes a Donald Trump joke that is just too perfect. It is so unexpected, but seamlessly woven into the corny kitchen table conversation that you can almost miss it. It comes when D.J.'s son Max is trying to tell his family that he's all grown up. "I already know all the bad words," he proclaims. "Dumb, booger, and Donald Trump." It's pretty amazing and even warrants an applause from the laugh track.
The camera pans to Candace Cameron Bure who shrugs and smiles with Bob Saget. It's about as raunchy as this show will ever get. Until it gets even better: when Kimmy Gibler puts her bare feet up on the table, Max says they smell like Trump. Two shots at Trump in one scene. Perhaps the cast had a running joke about Trump on set. Or maybe they all just really like Hilary.
They even took their Trump notes to the late-night scene. In a recent appearance on The Tonight Show with Jimmy Fallon, the original Full House cast did a sketch mocking Donald Trump. In the sketch, Fallon is dressed as Trump who has taken on the role of Michelle. Trump is wide awake and worried about losing the Republican nomination. And, in true Full House fashion, the family — including Kimmy — tries to reassure him that he'll do just fine.
But the Donald Trump jokes aren't corny at all. It's kind of a bold move to make a joke about the billionaire in the new series. If anything, it's an excuse to make you feel good about yourself for indulging in the reboot in the first place — at least they're talking about current events and not just about Uncle Jesse's hair the whole time, right? Although the old Tanners existed in a world all to themselves, this time around they've finally conceded that there is life beyond that backyard. It's sort of refreshing, right?