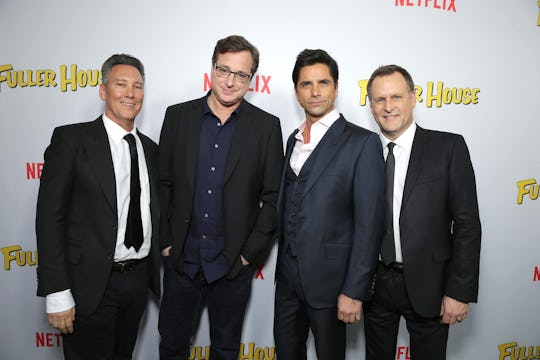 Eric Charbonneau/Netflix
'Fuller House' Men Dedicate First Episode To Their Moms & It Was The Sweetest Tribute
As if the 20-year reunion of the original Full House cast isn't emotional enough, get your hankie ready: The men of Fuller House have dedicated their first episode on Netflix to their mothers. Full House leading men Bob Saget, John Stamos, and Dave Coulier — as well as show creator Jeff Franklin — each lost their mothers within a year of each other. The end credits of the Fuller House premiere start with a title card that reads: "In Loving Memory of Arlen Coulier, Carole Franklin, Dolly Saget and Loretta Stamos (They would have loved this)."
In an interview with People magazine, Coulier — who plays Uncle Joey Gladstone — said, "there was just an instant support system. I consider those guys my family. We're just always there for each other." The four men have remained fast friends through the years, well after Full House wrapped. When Coulier got married to long-time girlfriend and photographer Melissa Bring in July 2015, the wedding was its own mini-Full House reunion. Much like Fuller House, everyone was there except for the Olsen twins (lame). Full House creator Jeff Franklin was there too, sharing this sweet photo of the four men who've been friends for nearly 30 years.
Coulier has not publicly spoken about his mother's death beyond his statements to People. That said, 2014 was a difficult year for the men of Fuller House: Franklin's mother, Carole Rose Franklin, died in January of that year at the age of 80. Saget's mother Rosalyn "Dolly" Saget died in February from abdominal cancer; she was 89. Saget spoke about his mother to FOX News, in a candid interview promoting his 2014 memoir, Dirty Daddy. "I lost my mother last month," he said. "She didn't want us to be sad. She said, 'There's nothing to be sad about.' She got to live a full life."
Stamos said his mother Loretta was "the love of my life" in a 2015 interview with Matt Lauer on The TODAY Show. She lost a battle with cancer in September 2014 at the age of 75. In that same interview, Stamos admitted that his mother's death is what sent him into a downward spiral that ultimately landed the 52-year old actor in rehab last June following a DUI. Stamos told People, "I miss my parents being here. It would be fun if they were." Stamos's father Bill Stamos passed away in 1998.
Even though they might not be here to see their sons in Fuller House, I bet all those ladies would have been proud of their boys. Let's bring it in for a hug, boys — you done good by your mamas.