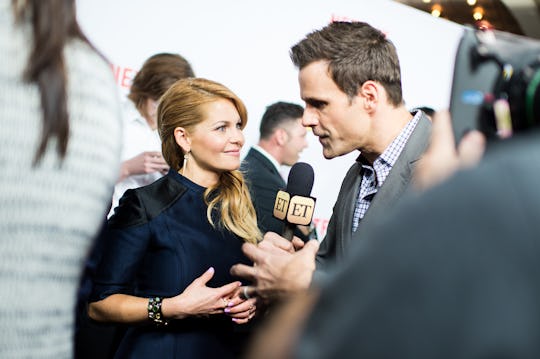 Emma McIntyre/Getty Images Entertainment/Getty Images
'Fuller House' References 'The View' & Candace Cameron Bure's Bosses Are Probably Pleased
If there's one thing that the new season of Fuller House loves, it's the meta joke. On the Netflix original sequel that just released on Friday, the show is keen to poke fun at itself and its stars. There have been a couple of fourth-wall breaking references to the glaringly obvious absence of Michelle Tanner — and thus, Mary-Kate and Ashley Olsen reprising their breakout roles. There's also been a few nods to Candace Cameron Bure's stint on Dancing With The Stars in the second episode of the show with an extended dance-off sequence. And in episode 11, "Partnerships In The Night," Fuller House references The View — a nod to Candace Cameron Bure's latest gig as one of three newest hosts to the ABC daytime talk show.
In the episode, Stephanie jokes that she has to make a tough decision between watching The View, The Talk, or The Real. And, like a good co-host, D.J. reminds her sister that you always watch The View.
The Fuller House star joins The View regulars Whoopi Goldberg, Raven-Symoné, and Michelle Collins. Cameron Bure is one of three new additions to Season 19 of the talk show, including Paula Faris, co-host of Good Morning America Weekend and Joy Behar, who returns from a three-year hiatus from the show. Cameron Bure was largely absent for the first two months of The View in order to accommodate filming Fuller House in Los Angeles; The View tapes in New York.
Cameron Bure's new gig on The View hasn't been free from controversy: In a January taping of the The View, Cameron Bure walked off the set during a commercial break following a heated discussion about racial diversity at the Oscars. She later assured fans it wasn't a result of the tense segment; she tweeted that she came down with the flu:
Cameron Bure has joined the hosting team of The View to fill the typically "conservative" seat on the show, a spot once held by former conservative hosts like Elisabeth Hasselbeck and Nicole Wallace. Cameron Bure is a noted born-again Christian, and her faith is a deeply important aspect of her life. On Tuesday's episode of The View, Cameron Bure discussed abortion, even going toe-to-toe with fellow cohost Goldberg. Although the conversation remained civil, it certainly wasn't without its heated moments. At one point, Cameron Bure shot back to Goldberg about why abortion is a women's healthcare procedure that requires outside intervention when it comes to decision-making: She believes that "the child has no voice. Someone has to have a voice for them."
Cameron Bure isn't totally on her own conservative island on the show. On Thursday, The View tweeted this GIF of Cameron Bure and co-host Symoné:
The View airs weekdays at 11 a.m. Eastern. The entire first season of Fuller House is available for streaming now on Netflix.