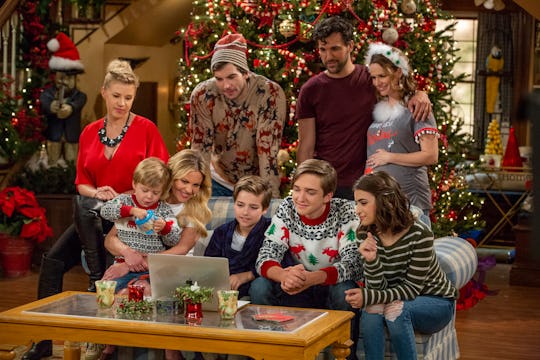 Netflix
The Trailer For 'Fuller House' Season 4 Is Finally Here & Oh Boy, It Looks GOOD
Growing up, there was nothing better than sitting in front of your TV and watching an episode of Full House. And now, you can do just that on Netflix with the past three seasons of Fuller House, the show that focuses on the Tanner family all grown up. And good news, Christmas came early this year, because the Fuller House Season 4 trailer is officially here, and this new season looks really, really good.
Fans of Fuller House and the Tanner family definitely won't want to miss the newest season. Season 4 picks up right where Season 3 left off, so if you're not caught up yet, stop reading now as there are spoilers ahead.
In Season 3, we learned that Kimmy Gibbler (still as lovable and quirky as ever) is pregnant, serving as a surrogate for Stephanie Tanner and Kimmy's brother, Jimmy Gibbler, according to ScreenRant. And the Tanner sisters (minus Michelle) are still living in their family home in San Francisco. Not to mention, Uncle Jesse, Uncle Joey, and dad, Danny Tanner, are still themselves and still having fun. Seriously, some things never change.
But there are some things that do change in the Tanner family. DJ Tanner's longtime on-again-off-again boyfriend, Steve, has returned to the show to try to make things work for the last and final time. The trailer for Season 4 promises that fans will definitely be just as entertained by the show as they were when they first watched Full House. It's full of highs, lows, and the same Tanner family that we all know and love.
And good news, Season 4 premieres on Netflix on Friday, Dec. 14 — just two weeks away!
The trailer promises that things are going to get very interesting, but in the best way possible. Not only is there going to be a DJ and Steve dance sequence during an episode (OMG), but the show is still going to focus on the youngest generation of Tanners, and Kimmy Gibbler's experience as a surrogate for Stephanie (yes please). Not to mention, you'll never know who will show up, because as Fernando states in the trailer, the door to the Tanner home is "always open."
It's almost as if Fuller House knows exactly what the grown up fans of the show have gone through or are going through. Older fans can relate to Kimmy's pregnancy (and Stephanie being incredibly cautious about it) or relate to DJ finding love again after having kids and becoming a widow. Meanwhile, young kids might relate to what the kids on the show are going through — after all, living with some quirky adults can be hard.
I mean, just take a look at fans reactions to the trailer on Twitter. They can not get enough of this show.
And as one Twitter user perfectly stated, "I'm literally crying like never before." Yes, this trailer is that heartwarming.
Needless to say, people are beyond happy about the upcoming new episodes of Fuller House, especially since it's been a full year since Season 3 aired. And since all the previous seasons are on Netflix, you'll have plenty of time to rewatch the series and catch up on all of the exciting moments that have happened with the Tanner family before Dec. 14.
This first-time mom wants to have a home birth, but is she ready? Watch how a doula supports a military mom who's determined to have a home birth in Episode One of Romper's Doula Diaries, Season Two, below. Visit Bustle Digital Group's YouTube page for the next three episodes, launching every Monday starting November 26