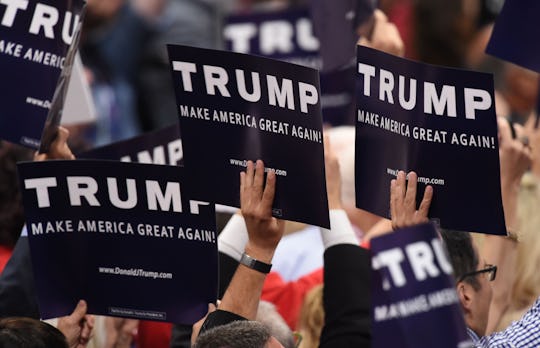 TIMOTHY A. CLARY/AFP/Getty Images
Funniest Donald Day Trump Tweets Prove Twitter Isn't Ready To Let The Gaffe Go
It's been a campaign so full of gaffes, critics kept losing bets on which one would bring "The Donald" tumbling down. Donald Trump has never been a candidate to apologize. Not when he called John McCain a loser or when he accused Megyn Kelly of having her period. But the joke was on him, Tuesday night, when House Speaker Paul Ryan messed up Trump's name as he was pronouncing him the official Republican nominee. The funniest Donald Day Trump tweets prove Twitter isn't ready to let the gaffe go.
It was the moment Trump supporters had been dreaming about since the start his improbable campaign over a year ago. Donald Trump shocked Republicans and Democrats alike when he burst into the 2016 presidential race, spewing profanities and political incorrectness. But Trump's shining moment as the official Republican nominee was clouded by an ironic mistake. Instead of nominating Donald J. Trump as the official nominee, Paul Ryan gave the title to a Donald "Day" Trump. Twitter, predictably, went nuts.
While some people thought the glib was a sign that Trump was never meant to be President, others hoped Donald Day was an entirely different candidate. Here are some of the best tweets to emerge out of Tuesday's chaos.
Some Thought Ryan Was Channeling Actor Daniel Day Lewis...
Others Speculated About Why Ryan Got Trump's Name Wrong...
Some Were Even Hopeful The Nomination Didn't Go Through...
While Paul Ryan didn't flinch at the mistake, viewers around the world picked up on it right away, and took to Twitter to make sure they weren't the only ones who heard the name being butchered.
The mess-up is ironic in part because of John Oliver's infamous campaign to rid the Trump name of its power. Earlier this year, the comedian urged people around the world to refer to Trump as Donald Drumpf, a nod to his ancestors.
The gaffe is the latest hiccup in a tumultuous convention. On Monday, the convention erupted in chaos as some delegates walked off after their requests to change the rules in an attempt to block the nomination were not granted. Yesterday, Melania Trump's much anticipated speech was marred by accusations that she plagiarized a 2008 speech by Michelle Obama.
Could this be the last faux pas of the convention? Unlikely. Chris Christie, Ivanka Trump and several members of the National Rifle Association under one roof is a recipe for a flurry of gaffes.