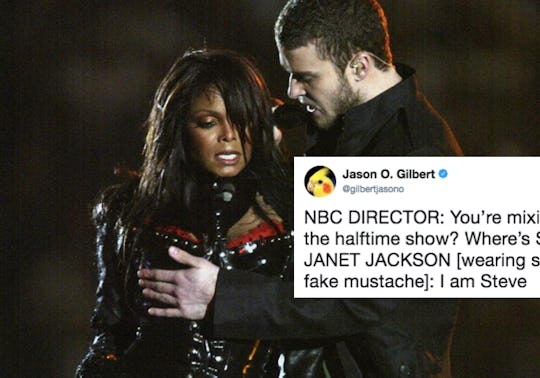 Donald Miralle/Getty Images Sport/Getty Images
Twitter Is Having A Riot With These Janet Jackson Jokes About The 2018 Super Bowl
It's been 14 years since Janet Jackson and Justin Timberlake took Super Bowl XXXVIII by storm and an incident known as "Nipplegate" was born. In 2004, as many fondly remember, during the final moments of Jackson and Timberlake's halftime performance, as the duo performed the song "Rock Your Body" — singing the lyrics, "Bet I'll have you naked by the end of this song" — the former *NSYNC star ripped off a piece of Jackson's leather outfit, exposing her breast on live TV. With this wardrobe malfunction still very fresh in viewers' minds and Timberlake headlining the 2018 Super Bowl halftime show, it was only a matter of time before some of the funniest Janet Jackson tweets began to surface on social media, because really, the internet never forgets.
Even though it's been 14 years since "Nipplegate" happened, people are still pretty worked up about it. But they do have their reasons; the incident was actually a huge deal at the time and many were unimpressed with Timberlake's handling of how it all went down, or that he had hardly faced any immediate backlash. In fact, according to People, Jackson's family apparently still hasn't forgiven Timberlake after the infamous controversial moment and told the publication that if he really wanted to put this whole incident behind them, the "Can't Stop The Feeling" singer would have invited Jackson to share the stage with him this year.
"If he's such a gentleman, he'd make sure Janet [Jackson] is there," Jackson's father, Joseph Jackson, told People. Despite any wishful thinking from both fans and Jackson's family, before tonight's performance both Jackson and Timberlake confirmed that a reunion was simply not happening.
On Saturday night, Jackson tweeted an image of text that read, "To put to rest any speculation or rumors as to whether I will be performing at the Super Bowl tomorrow; I will not. Thank you for your support and I do look forward to seeing you all very soon."
Timberlake, for his part, told reporters ahead of his performance that neither Jackson nor *NSYNC would join him on stage, according to Billboard. "Uhh, well, no," he replied with a laugh when asked if a reunion was possible at this year's Super Bowl, as Billboard reported.
Many fans were hoping that Jackson and Timberlake would reunite tonight, but given that it didn't happen, Twitter started the hashtage #JanetJacksonAppreciationDay and, of course, had plenty of jokes locked and loaded.
Some People Noticed That Feb. 4 Not Only Marked 2018 Super Sunday — Tonight Was Only Kylie Jenner Pregnancy Reveal Day
Others Had Demands
Some Thought Janet Jackson Herself Was Behind That Blackout On Everyone's Screens
Others Just Couldn't Help But Crack A Few Jokes
As Twitter has proven, the "Nipplegate" controversy is old enough to be a punchline, but also still relevant enough that people still have so many feelings about Timberlake's halftime performance lacking Jackson's presence. That's probably because, at the time, Jackson had fielded most of the blame for the incident and Timberlake escaped much of it. The day after the 2004 Super Bowl, for example, CBS asked Jackson to release a statement about the incident, but did not ask Timberlake, according to TIME.
Many believed that Jackson orchestrated the "wardrobe malfunction" as a planned publicity stunt, although she told a different story. As Vox reported, the Federal Communications Commission fined both Jackson and CBS, the network that aired the game in 2004, $550,000, but not Timberlake. However, a court ultimately ruled that the FCC "wrongly fined" Jackson and the network, Rolling Stone reported in 2011, but many would argue that the damage had already been done.
Controversy and mystery continued to ensue for months and years afterwards and the effects of the incident are still in place today, such as implementing delays in live broadcasting, as Rolling Stone reported. Even in 2018, there are still a lot of theories about what actually happened during that infamous halftime performance. But tonight, Twitter was ready to have a laugh and they absolutely provided.
Check out Romper's new video series, Romper's Doula Diaries:
Watch full episodes of Romper's Doula Diaries on Facebook Watch.