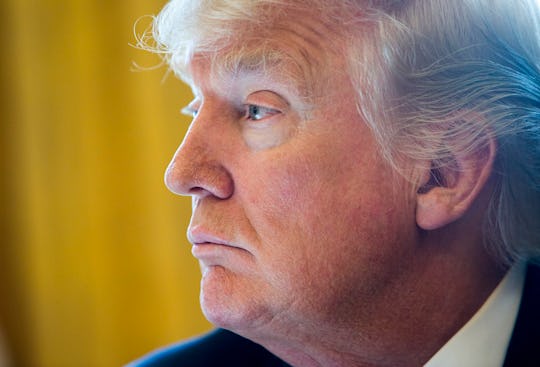 Pool/Getty Images News/Getty Images
Twitter Has Fun With Trump's Travel Ban Tweet
There's no joking around when someone writes in all caps. Well, usually. On Thursday, President Donald Trump lashed out at an appeals court because it unanimously refused to reinstate his controversial travel ban. "SEE YOU IN COURT, THE SECURITY OF OUR NATION IS AT STAKE!" the president tweeted. Of course, Twitter responded accordingly and the funniest reactions to Trump's "see you in court" tweet will serve as a sweet reminder that justice has been served — and will likely give you a good laugh, if you haven't already had one today.
People are having a field day on Twitter because Trump had his you-know-what handed to him in court. Clearly, the president is not happy about it, as he angrily tweeted out the dramatic message just minutes after the ruling, later calling the ruling "a political decision," according to The Hill.
On Thursday, the three-judge federal appeals panel in San Francisco shot down his legal team's arguments and instead chose to uphold the block on Trump's travel ban, which temporarily suspended the nation's refugee program and immigration from seven Muslim-majority countries to prevent the threat of terrorism. According to The Hill, it's very likely that the case will be quickly appealed to the U.S. Supreme Court and because it's currently shorthanded with eight justices, the lower court's ruling will be upheld if there is a split decision.
In the meantime, critics of the travel ban, from prominent political figures to concerned Americans, are celebrating this moment.
"President Trump ought to see the handwriting on the wall that his executive order is unconstitutional," Senate Minority Leader Chuck Schumer told The Hill. "He should abandon this proposal, roll up his sleeves and come up with a real, bipartisan plan to keep us safe."
Former Democratic presidential candidate Sen. Bernie Sanders also celebrated the ruling and said in a statement that it could "teach President Trump a lesson in American history and how our democracy is supposed to work here at home."
But possibly one of the best reactions was this concise burn from Trump's 2016 presidential rival Hillary Clinton: "3-0," the former secretary of state tweeted after the ruling, referring to the court's unanimous decision.
And it wasn't just Clinton who was on top of it. A lot of people took to Twitter to respond to the ruling and subsequent White House reaction. So, without further ado, let's have a look at some of the funniest reactions to Trump's "see you in court" tweet:
All jokes aside, Trump and the Department of Justice will face a long legal battle if they continue to defend his travel ban. Nonetheless, the ruling serves as a refreshing reminder that there is a system in place to dole out justice when necessary.