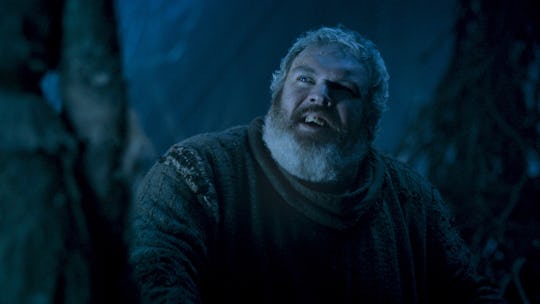 HBO
Funniest Reactions To "Hold The Door" On 'Game Of Thrones,' Because It Still Hurts
It doesn't matter how much time has gone by, the final scene in Game of Thrones' "The Door" was gut-wrenching and will forever be gut-wrenching. "It's just a show," you can tell yourself over and over again, yet the fact that Hodor died on Game of Thrones will probably never get easier. Hodor was a gentle giant, one whose past was a bit of a mystery. That was until Sunday when we learned just how Wyllis became Hodor. The reveal inspired the Internet to put on their funny caps, of course, which is what brings us to the funniest reactions to Game of Thrones' "Hold the door."
Anyone can be a comedian on Twitter, which became evident when the Internet got its hands on the final scene of Sunday's Game of Thrones. Whether it was a devastated reaction or quick quip, Twitter had a field day (and is still having a field day) with "hold the door." Some are better than others, of course, but what can you expect in a time of such sadness. (Recap: Bran's warging caused Hodor to hold the door against the White Walkers just long enough for Meera and Bran to escape the tree. Hodor then died, and we're all sad.)
So, what are some of the best reactions to "hold the door"?
This Person Who Couldn't Hold The Tears...
This Cruel Parenting Style...
This Person Who Was Forever Changed...
This Person Who Had To Make A Seinfeld Joke...
This Person Who Was Still Hurt, Despite Spoilers...
This One Small Catch...
This Lone Wolf Who Is Locked Out...
This Emotionally Ruined Person...
This Sad Tech Move...
And This...