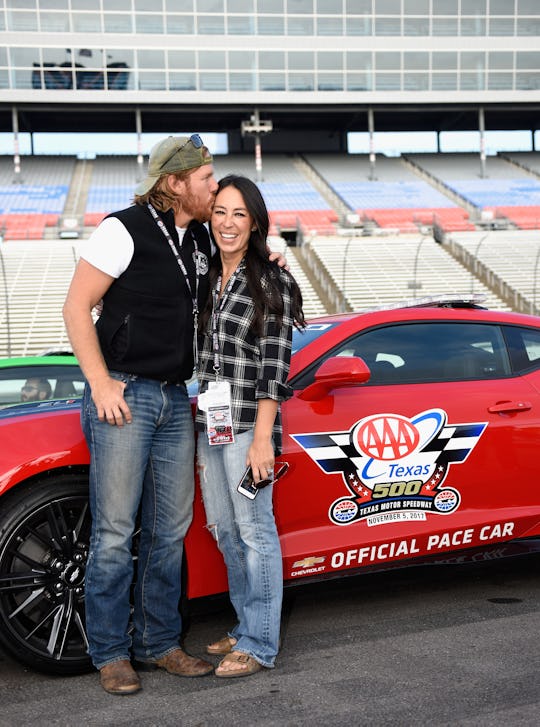 Jared C. Tilton/Getty Images Sport/Getty Images
Funniest Reactions To Joanna Gaines' Pregnancy Show Fans Are So. Excited.
Baby alert! On Tuesday, Chip and Joanna Gaines, hosts of HGTV's Fixer Upper, took to Instagram to announce that they're expecting their fifth child together, according to People. Of course, fans of the home improvement couple went wild on social media after hearing the news. Here are just some of the funniest reactions to Joanna Gaines' pregnancy so far.
The Gaineses' pregnancy announcement came late Tuesday night, after Chip Gaines posted a photo to Instagram showing the design pair both wearing gray sweaters, standing in what seems to be a family room at home. In the photo, Joanna is cradling her husband's fake baby bump while showing off her own growing belly. Chip wrote in the caption, along with the image, according to People,
Gaines party of 7.. (If you're still confused.. WE ARE PREGNANT) @joannagaines
Fans of the veteran HGTV stars, who are already parents to four kids, were definitely not confused by Chip's baby news. In fact, many Fixer Upper die-hards couldn't contain their excitement that the Gaineses are expecting another child. To be honest, a lot of the social media reactions to Joanna Gaines' pregnancy are downright funny, which seems appropriate for the way the couple revealed the news in the first place.
It should come as no surprise to Fixer Upper's loyal fan base that the Gaineses are expecting a fifth child. (They are already parents to Drake, 12, Ella, 11, Duke, 9, and Emmie Kay, 7.) Back in October, husband Chip told ABC News that he wanted more kids, and couldn't wait to try to conceive once their popular HGTV show ended its run.
The 42-year-old general contractor said, according to ABC News,
We had four babies right before the show started, and then we've had zero babies since the show started. For me, I'm really excited to go back and try to maybe...try to make some more babies.
At the time, Joanna didn't seem fully on board with Chip's dreams for another baby. The 39-year-old design star responding to her husband's comments with a laugh, telling ABC News,
Maybe. We have different answers.
The baby news also didn't come out of nowhere on Tuesday. Chip had dropped hints about the pregnancy on social media before and during Tuesday night's episode of Fixer Upper, according to USA Today. One of his tweets included a clip from the show that mentioned pickles, ice cream, and the number five, along with the message, "We've got BIG news to share."
Chip wasn't the only one to offer hints. His wife, Joanna, also posted a cryptic, yet revealing message to Instagram on Monday, along with an images of two benches in front of a body of water. The message read, according to People,
New year, new hope... Be expectant. There is just something about fresh faith and unwavering trust that brings life to our souls. May this be your best year yet. #2018
The pregnancy announcement is also welcome news for fans reeling over the fact that Fixer Upper will soon come to an end. In late September, the Texas-based home improvement couple announced that the fifth season of Fixer Upper will be its last. One source told US Weekly that the couple planned to end the series because of security concerns, while another source claimed that the Gaineses worried the home renovation show would take a toll on their relationship.
That source told US Weekly back in November,
They don't want anything to affect their marriage.They want to focus on raising their kids and being a family since their kids are getting older.
But fans shouldn't fret — not completely. Joanna Gaines will be back on HGTV with her spin-off series, Fixer Upper: Behind The Design, according to People. The show will air shortly after the final season of Fixer Upper begins airing. In the meantime, congratulations to the happy family!
Check out Romper's new video series, Romper's Doula Diaries:
Watch full episodes of Romper's Doula Diaries on Facebook Watch.