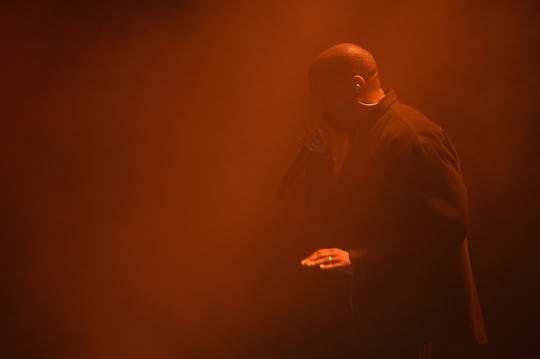 Jamie McCarthy/Getty Images Entertainment/Getty Images
Funniest Reactions To Kanye's Trump Tower Visit Prove Stranger Things Have Happened
The constant monitoring of Trump Tower's lobby ever since President-elect Donald Trump won the election has been a source of stress and anxiety for those tasked with keeping an eye on it. But on Tuesday morning, those careful watchers got a pretty big surprise: Rapper Kanye West strolled in, and many were wondering if he was there to meet with Trump. Of course, the internet's funniest reactions to Kanye's Trump Tower visit prove stranger things have happened in 2016.
According to TMZ, West is visiting New York City in search of a psychiatrist. This trip comes shortly after he was released from an eight-day psychiatric hold, prompted by emotional distress that caused him to cancel the remainder of his Saint Pablo tour. West has, in the past, been treated for depression and anxiety and it appears that he's now putting strategies and resources in place for his recovery.
In a video from CNN, West and Trump spoke briefly to reporters at Trump Tower. Trump said that he and West "have been friends for a long time." When asked about his reason for visiting the president-elect, Kanye said he "just wanted to take a picture" with Trump. Of course, the internet has had its eyes glued to Trump Tower for weeks as people have arrived to discuss Cabinet appointments with Trump, so when West showed up, it sent West's fans — and the internet at large — into a bit of a frenzy:
Of course, some of the Tweets in response to West's visit, Trump's impending presidency — and the media's coverage of it — were much-needed truth bombs that might be entertaining if they weren't so painfully true:
Prior to West's arrival at Trump Tower, President-elect Trump announced that he had chosen ExxonMobil CEO Rex Tillerson for Secretary of State, and Texas Gov. Rick Perry to head up the Department of Energy.
Meanwhile, while West was en route to Trump Tower and Trump was making his most recent staffing announcements, Syrian forces in Aleppo have reportedly been shooting civilians in their homes; The International Energy Agency announced that the global oil surplus will disappear in the coming year; Abortion rights groups in Texas filed a lawsuit in an attempt to stop the state from passing a controversial abortion law that would require burials or cremations for products of conception following miscarriage or abortion; and the Republican-lead investigation into Hillary Clinton's role in Benghazi has ceased operations.