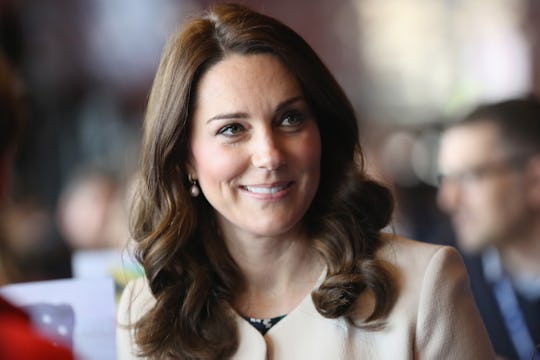 Chris Jackson/Getty Images Entertainment/Getty Images
Funniest Reactions To Kate Middleton Giving Birth Show That There's Humor In Everything
Kate Middleton has finally given birth — hooray! The Duchess of Cambridge and her husband, Prince William, welcomed their third child, a boy. There are so many reactions that people could have to this announcement — excitement that the new royal baby is finally here, sadness that they can no longer see Middleton's amazing pregnancy style, and happiness that they get to see more pictures of the adorable royal children. But some people reacted with humor, and the funniest reactions to Kate Middleton giving birth show that there is a lot of humor to be had in the newest royal baby's birth.
The little boy was officially born on Monday, April 23. Kensington Palace shared in a statement: "Her Royal Highness The Duchess of Cambridge was safely delivered of a son at 1101 hrs. The baby weighs 8lbs 7oz. The Duke of Cambridge was present for the birth. Her Royal Highness and her child are both doing well." And with every happy and exciting moment, there is always humor to be had, and people on Twitter made the most of the situation.
While some wouldn't find the birth of the royal baby to be the biggest source of content for jokes, Twitter users were able to find the funny side of things...
Seriously, people could not stop making jokes about the baby's arrival:
Now that the baby is here, there is less speculation about the details of the baby's birth and now more speculation about how the baby will fit in with his siblings — 4-year-old Prince George and 2-year-old Princess Charlotte. Given Prince William's quotes on parenting, there are no doubts that the baby will be in great company — but their home might be chaotic for a little while. During an appearance at a black tie event at Kensington Palace in February, according to ABC News, Prince William joked that he was trying to get as much sleep as he could before the baby's arrival. Prince William said, according to ABC News:
Two is fine — I don't know how I'm going to cope with three. I'm going to be permanently tired.
Even the prince and future King of England (he's second in line for the throne) can make jokes about his family, just like Twitter users. Middleton's humor is just as dry as her husband's. During a February appearance in London, Middleton joked that her husband was "in denial" about the third baby's arrival, according to People. But now that baby number three is finally here, Prince William can't deny it any longer.
While both Middleton and Prince William have had their own jokes up their sleeve about baby number three (that are comparable to those on Twitter), this is just about as much humor as you'll get from Prince William and Middleton. The things they say about their children reveal bits of their personal lives at home rather than bits about their personalities. In March, Prince William revealed that Prince George is obsessed with police cars and toys. And in the same month, Middleton revealed that both Prince George and Princess Charlotte love to get their hands messy and cook at home, according to The Sun. But the lives of the kids and their personalities are about to change a bit more with this new baby in their home.
The good news is, it seems like Prince William and Middleton are already taking a light-hearted and happy approach to their new addition in the family, just like the internet has.
Check out Romper's new video series, Bearing The Motherload, where disagreeing parents from different sides of an issue sit down with a mediator and talk about how to support (and not judge) each other's parenting perspectives. New episodes air Mondays on Facebook.