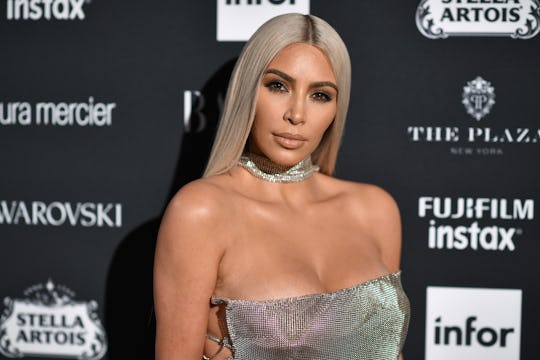 Dimitrios Kambouris/Getty Images Entertainment/Getty Images
Kim Kardashian Welcomed Her Daughter & Twitter Had A Field Day
Kardashian season has officially begun: adult Kardashians are returning to their nests to spawn a new generation of reality TV stars. Some of you might be burnt out on the subject, so here's something to get you back into the spirit. These are the funniest reactions to Kim Kardashian welcoming her daughter, though her name has yet to be released at this time. If she's not really your style, don't worry, because Kim's sister, Khloé, will follow soon behind with her own. And if you've all been good little boys and girls this year, we just might get a third one from Kylie Jenner... Or maybe just some more vague Snapchats and face-only Instagrams. Who knows?
Kim and Kanye West's daughter was born on Monday, Jan. 15 to an unnamed surrogate, according to E! News. The birth was confirmed by Kardashian herself. "Kanye and I are happy to announce the arrival of our healthy, beautiful baby girl," she announced on her app on Tuesday. "We are incredibly grateful to our surrogate who made our dreams come true with the greatest gift one could give and to our wonderful doctors and nurses for their special care. North and Saint are especially thrilled to welcome their baby sister." She also revealed that the baby was born at 12:47 a.m. PST and weighed 7 lbs., 6 oz.
This is the third child for Kardashian and her husband, Kanye West, who have a daughter, North, age 4, and a son, Saint, who just turned 2 in December. Let's hope they get along with their new sibling better than they do with each other, though; in April, Kardashian told Ryan Seacrest that North "does not like her brother," according to E! News. Besides her brother and sister, though, child No. 3 also has the public to deal with, and their welcome has been... Well, see for yourself.
Clearly, the main thought on everyone's mind is knowing the name of her new bundle of joy. Some even tried to guess what it could be.
And that didn't stop further rumors about the mystery surrogate from surfacing. In fact, some people are convinced now more than ever that it was Kylie Jenner after all:
Kardashian was very open about wanting a third child, and the journey to conceive their third child was chronicled on the current and previous season of Keeping Up With the Kardashians. A teaser ad released in late September finally confirmed that she was expecting when she broke the news to her sister over the phone. Some speculated that the timing of the announcement was moved up to take the heat off of the other two rumored pregnancies in the family, which, of course, it did not. Khloé finally confirmed her pregnancy on Instagram Dec. 21, but Jenner is still playing coy.
Kardashian chose to use a surrogate for her third child because she has a high risk for two serious medical conditions, and a third pregnancy was not advised. She explained further on her website during her pregnancy with Saint: "Last pregnancy, I had a condition called preeclampsia, which is a serious condition you can get during pregnancy ... I had to deliver at 34 weeks, almost six weeks early." And that's not all: "My placenta stayed attached inside my uterus, which is a condition called placenta accreta. This is a high-risk condition that happens when the placenta grows too deeply into the uterine wall. My doctor had to stick his entire arm in me and detach the placenta with his hand, scraping it away from my uterus with his fingernails."
Kardashian ended up suffering placenta accreta once again when Saint was born, and risking the life-threatening condition a third time was not an option. On a recent episode of KUWTK, according to People, she spoke about the difference between carrying her own pregnancy and handing it off to someone else: "Getting a surrogate and finding someone that you really trust is so much more difficult of a situation than you could really imagine. You have to make sure that their lifestyle is healthy, and they have to go through psychological testing, and it was maybe a year before we finalized our current situation."
As nerve-wracking as it was, she still found some humor in the situation. When she found out the implantation was a success, she said, "I don't know whether I should start eating donuts and celebrate like I would like old times, or just go to the gym. I'm totally gonna forget, and then a month before, I'm gonna be like holy sh*t, we need to get a nursery."
But now their new baby girl is here and from the sound of things, they couldn't be more thrilled to welcome this new addition into the family. I'm sure more and more details will come out as time goes on (including the reveal of their daughter's name), but in the meantime, I'm just happy that they're so happy!
Check out Romper's new video series, Romper's Doula Diaries:
Watch full episodes of Romper's Doula Diaries on Facebook Watch.