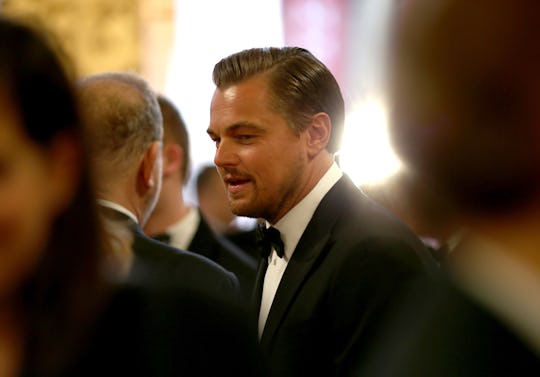 Christopher Polk/Getty Images Entertainment/Getty Images
Funniest Reactions To Leonardo DiCaprio's Oscars Win Are Hilariously Touching
Folks, the time has finally come. Actor Leonardo DiCaprio has won an Oscar for his performance in The Revenant, finally breaking his longstanding row of Oscar misses and destroying the pastime of meme-makers everywhere. What are they supposed to poke fun at now? Will we have to rely solely on Chrissy Teigen's funny faces at future Oscar award ceremonies? Except, actually, the reactions to Leonardo DiCaprio winning an Oscar have been pretty hilarious as well. All hope is not lost for comedians who base their Oscar jokes around Leonardo DiCaprio.
Fans reacted swiftly to the news, and within seconds, a Twitter account named "Leonardo's Oscar" (which had previously tweeted things such as "Maybe Leo can buy me at a garage sale or somethin'," and "Damn it, not again" in 2014) tweeted out a victorious "Hey, daddy."
I have to admit, I really wanted DiCaprio to go on stage, say "Thanks, y'all," and then just drop the mic, but alas, DiCaprio gave a very gracious speech and used the opportunity to highlight climate change. While I actually really respect DiCaprio's urge to combat the "most urgent threat facing our entire species," part of me wanted him to say something entirely meme-worthy. It was just a small part, though. I promise.
But even if DiCaprio chose grace over humor on stage, plenty of people on the Internet gave us their best reactions:
Thanks for being such a good sport, DiCaprio. And here's to many more Oscar wins!