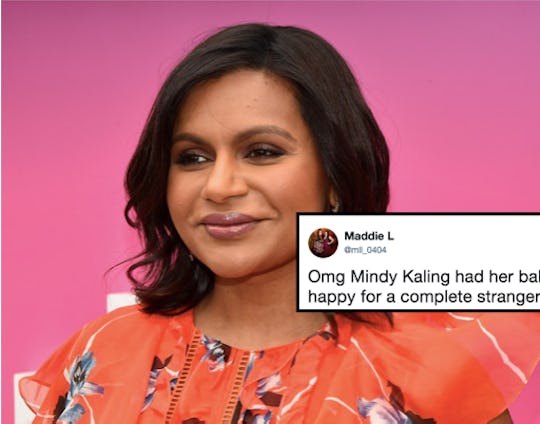 Bryan Bedder/Getty Images Entertainment/Getty Images & mll_0404
Fans Are Absolutely Losing It Over The Fact That Mindy Kaling Has Given Birth
After Mindy Kaling kept much of her pregnancy a mystery for the past nine months, fans no longer have to wait for the exciting news. That's because on Tuesday, E! News reported that Kaling gave birth to her first child, a daughter named Katherine, whom she welcomed last Friday, Dec. 15. The news could not be any more exciting for longtime fans of The Office and The Mindy Project who fell in love with Kaling's witty and relatable humor. And just like Kaling's jokes that are always on point, the funniest reactions to Mindy Kaling giving birth and welcoming her daughter are so good. Romper's request for comment from Kaling's reps was not immediately returned.
Here's all of the details so far, because you're probably dying to know more about her baby girl. Kaling gave birth last week, according to E! News, just in time for the holidays and to welcome in the New Year. Kaling has yet to reveal the identity of the baby's father and she's "not publicly linked to anyone romantically," according to E! News.
As previously stated, much of Kaling's pregnancy was shrouded in secrecy so it's amazing to know this much about the baby so far. Fans on Twitter seemed to be pretty excited as well, taking to the social media platform to share their hilarious thoughts and feelings over Kaling giving birth.
Thank goodness this news comes so soon after Kaling gave birth — because otherwise, fans might have had to rely on Oprah to spill the beans about her daughter's name. Yes, that Oprah.
This past summer, during an interview with People, Kaling's A Wrinkle In Time co-star, Oprah, spilled all of the beans about Kaling's pregnancy. Kaling had not confirmed or denied the news about her pregnancy until Oprah told People, according to Vulture, that Kaling was not only pregnant, she was five month pregnant. Oprah said, according to People:
That's when she told me. My mouth dropped. "What did you just say?" she said, "Oh Oprah, I don't think you know. I'm 5 months pregnant." And I said "Whaaaattt?!"
Oops. Kaling then told Ellen DeGeneres during an appearance on The Ellen Show that she was totally OK with Oprah revealing all of her secrets. Kaling told DeGeneres, according to Vanity Fair, "At first it was like, 'OK. If anyone is going to announce big news about your private life, Oprah Winfrey is the person.'" But Oprah was not needed on Tuesday night to do her part.
In September, during an appearance on Sunday TODAY, Kaling revealed just how excited she was to become a mom to host Willie Geist. Kaling told Geist, according to Us Weekly, that the thing she most anticipated about becoming a mom was the fear of the unknown. Kaling said:
It is so unknown to me. I have a lot of control over aspects of my life, and this is one where I'm like, "OK it's out of my hands," which is kind of a fun feeling.
But of course, Kaling had to maintain a sense of humor about it all, and told Geist in the same interview that she is most excited to become a parent so she could critique other parents, naturally. Let's be real, if Kaling didn't make a joke about motherhood, then it wouldn't have been on brand.
Next year is about to get a lot more exciting for Kaling. With two new, highly anticipated movies debuting in 2018, and her daughter already here, the new year could not look any better. Hopefully this announcement is not the last fans hear about her daughter, because they're clearly excited for her.
Check out Romper's new video series, Romper's Doula Diaries:
Watch full episodes of Romper's Doula Diaries on Facebook Watch.