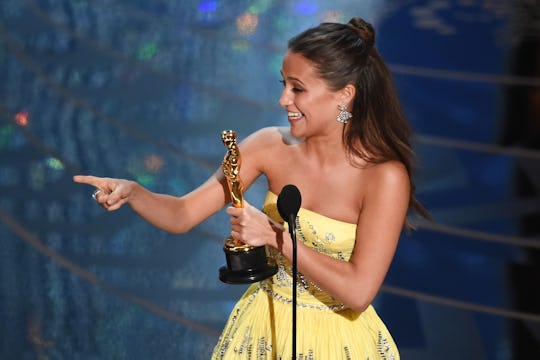 Kevin Winter/Getty Images Entertainment/Getty Images
Funniest Reactions To The Oscars Scroll Show Twitter's Got Jokes Tonight
In an attempt to cut down on this year's Oscars acceptance speeches, the Academy has decided to implement a Special Thanks Scroll. Just like a news ticker on CNN, viewers can watch the names of friends, family members, colleagues, agents, and whoever else the winner wants to thank scroll along the bottom of your screen instead of hearing the winner say them. People have feelings about this new scroll, created and put together by first-time producers David Hill and Reginald Hudlin, and the funniest reactions to the Oscar Scroll highlights them perfectly.
It's not so much that people mind the extra reading. Instead, it seems like the main issue viewers have is the feeling it gives to an otherwise glamorous evening. A scroll on the bottom of a television screen takes away from the overall allure of Hollywood's biggest night, where gowns and diamonds and high society come together to celebrate impactful movies and stunning performances. So, instead of allowing the actors, actresses, writers, costume designers, and directors to take the time they've earned to thank people formally and personally, the Academy wants to give their orchestra a break and keep the award winners on a tight schedule.
Personally, I think it's just weird, you guys. It's weird and it's pretty rude and no one likes it. In fact, the only good thing to come out of the Oscar Scroll is the hilarious tweets we get to read about it.