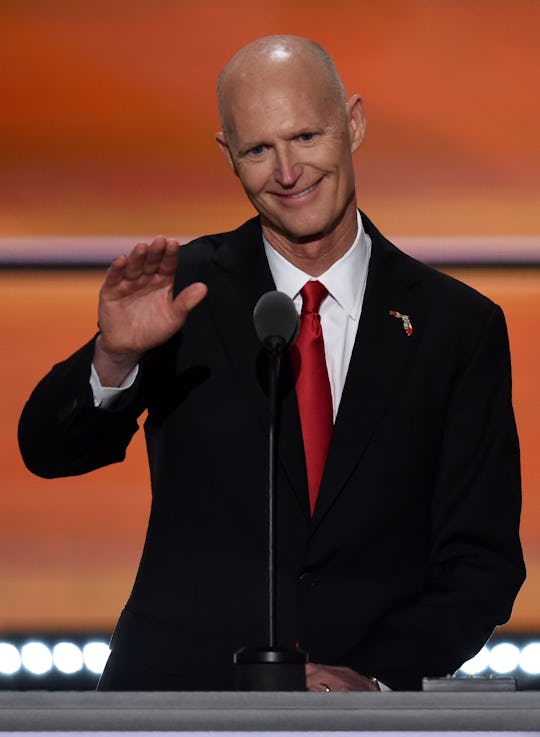 TIMOTHY A. CLARY/AFP/Getty Images
Funniest Rick Scott Tweets Prove People Were Confused By His RNC Appearance
On the third night of the Republican National Convention on Wednesday, it was Florida Gov. Rick Scott's turn to speak and to give his seal of approval for Republican presidential candidate Donald Trump. His speech centered all the reasons why Trump is best candidate and focused on the threat of terrorism in the United States. He spoke about the terrorism that hit his state recently — the shooting at an Orlando LGBT nightclub, which left 49 dead — but failed mention where exactly that horrific attack occurred. After thanking everyone for their prayers in the wake of the attack, the governor later criticized President Barack Obama for being soft on terrorism and declared Trump as the best candidate to wipe out terrorism. Of course, his speech also caught the attention of those on Twitter. What's more, these funny Rick Scott tweets prove people were just plain confused by his RNC appearance altogether, perhaps for his choice of words, or omission of words, or just his overall demeanor on stage.
"I know that some have reservations about my friend Donald Trump. Perhaps he's sometimes not polite," Scott said at the convention on Wednesday night. "He can be a little rough and for some people he may be too direct. We need a president who is politically incorrect who will tell it like it is. ... We need a president who is not afraid to say 'radical Islamic terrorism.' We need a president who will wipe ISIS off the face of the Earth."
Twitter immediately pounced.
Some noticed that he didn't mention the LGBT community while speaking on the Orlando attack
Some commented on what was happening on stage
Finally, some were both outraged and confused by everything
Before Gov. Scott took the stage on Wednesday, the White House released a lengthy statement that praised the Republican for how he responded to a possible case of Zika in Florida, posting an excerpt of it on Twitter moments after Scott's speech.
"The president recognized Florida's strong record of responding aggressively to local outbreaks of mosquito-borne viruses like Zika, and offered federal support and technical assistance," according to the statement, which later cited and additional $5.6 million that would be sent to Florida from the Centers for Disease Control and Prevention to fight the threat of the Zika virus.
Later on, Gov. Scott slammed the Obama administration during his speech at the Republican convention. Here is an excerpt of his speech:
"Today, America is in terrible, world-record-high debt. Our economy is not growing. Our jobs are going overseas. We have allowed our military to decay, and we project weakness on the international stage. Washington grows while the rest of America struggles. The Democrats have not led us to a crossroads; they have led us to a cliff."
Last month there was a bit of speculation that Trump might be have been considering Gov. Scott as his running mate, but he has previously said that he was not interested in being the next VP. While the Florida governor endorsed the billionaire nominee back in March, his RNC speech surely sealed the deal.